Latest Junior News
Bloxwich Junior club 10 years old!
4 Feb. Bloxwich juniors joined Walsall's mayor and mayoress Paul and Chris Bott in the Mayor's Parlour to celebrate the tenth birthday of Boxwich Junior Chess Academy. The club was founded by Ray and Eunice Dolan. Starting with only 6 players, the club now has 30 members. The club has provided 5 players for English squads in recent years. The club has taught new players and older members have used their skills as part of their Duke of Edinburgh award skill-set. Special guest was former English team captain David Anderton OBE.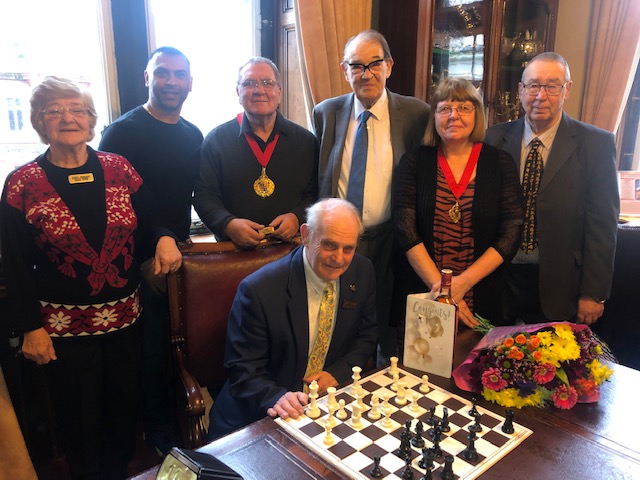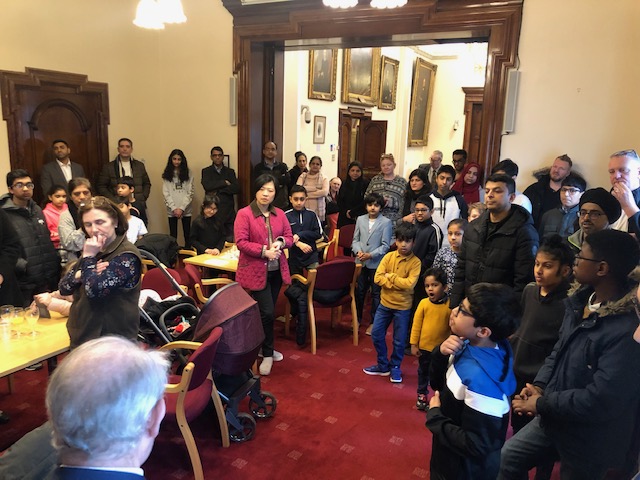 Imogen Dicen wins England Girls' Championship
21 Nov 2019. Imogen from Coventry Chess Academy was placed first on 4½ points. Imogen drew the final round game with second placed Arora Tashika to secure the title. See full results at chess-results.com.
UK Schools Daventry Terafinal Midland successes
22 Sep 2019. Nearly 200 players took part. Jonah Willow (W Nottingham) was 2nd and Jacob Boswell (Cheddleton, Staffs was third in the under-18 tournament. Samia Z Skeik (Kettering, Northants) was top girl in the under-14s and Edison Xu (Newport Shrops) was 3rd in the under 12s. Players form southern and home counties dominated the prize lists for the younger age groups.
Warwickshire Junior Championships
25 Nov 2018. Finlay Bowcott-Terry (Halesowen) won the under-18 to under-14 tournament with 6½ points from 7 games. Manvith Sandhu (Hallfield Sch) was first with 6 points in the under-12 tournament, Jude Shearsby (Coventry Chess Acad) in the under-10 and Elis Dicen (St Patrick's Sch, Birmingham) in the under-8 made clean sweeps scoring 7 points in their tournaments. Over 80 players took part in the event organised by IO Alex Holowczak. Full results at Chess-Results.com.
Worcester Junior Winners
17 Nov 2018. Josh Clarke (The King's School, Worcester) was overall winner with 15 points and the highest scoring player at junior school was Ethan Tan (King's St Alban's School, Worcester) with 13 points.
UK Chess Challenge Midlands Gigafinal winners
8 Jul. At the first Midlands Gigafinal held at the Trident Centre, Leamington Warwickshire and Nottinghamshire juniors scored well. Elis Dicen (Warks, Under-7) and Edison Xu (Warks Under-11B) won all their games to take the first prizes in their tournaments. Other players to take first prizes without sharing were: Finlay Terry-Bowcott (Halesowen, Worcs Under-13B), Anita Somton (Notts, Under-14) Jonah Willow (Notts, Under-15), and Jacob Connor Boswell (Staffs, Under-16). The following won shared first prizes in their sections: Jude Shearsby (Warks, Under-8B), Margarita Sanchez (Warks, Under-10), Abhishekdev Ramesh (Worcs, Under-12B), Aditya Munshi (Notts, Under-14), Kishan Modi (Northants, Under-14). Full results are on the Chess-Results server.
Warwickshire Junior Open
7 Apr, Alex Holowczak reports. Over fifty players competed in four tournaments. Manvith Sandhu (Hallfield Sch) was first in group A with 4½ points. In group B, Ayesha Naushahi ( K Henry VIII Sch, Birmingham) and Margarita Sanchez (Coventry Chess Acad) shared first place on 4 points. Eshaan Pasha (Hallfield Sch) won groups C with a clean score of 5 points as did Islem Mahmoud (Acocks Green Primary) in group D. Scores for all players are at Chess-Result.com.
Devan Patel wins Bloxwich Juniors UK Chess Challenge
6 Feb, Ray Dolan reports. Devan was fist on 19 points and shared second placed were Dhiren Bahia and Cameron Rehmen with 18 points. The event was opened by local MP Eddie Hughes who has invited members to the House of Commons.
Older news
Please click the "Junior news" link on the left of this web page.
Do you want to play chess for England?
The English Primary Schools Chess Association Chess organises the England Under 11 Team and the England Girls' Under 11 Team. The England Girls' Under 11 Team is selected by its manager, based on performances at major tournaments run by ESPCA throughout the year. One of these events is being held in Nottingham (use "Junior Events" on the left menu) and others are in the calendar of ESPCA events. Use the next link to view The team selection procedure. If you would like to play chess for England and you are under eleven years old, ask your parents to contact Ray Dolan, MCCU Chief Executive Officer.
Chess competitions for school children
Please click the "Junior Events" link on the left of this page for upcoming individual and team competitions
Organisers and coaches for junior players
Please use the "Junior Links" link on the left of this page to find junior organisers and chess coaches near you.