Latest MCCU News
County match results
9 Dec. In the u140 tournament, both Worcestershire and Nottinghamshire retain 100% scores beating Warks and Staffs respectively while Leics beat Lincs. In the u100 tournament, in an 11-board match Leics beat Notts.
1 Dec. In the Championship, Lincolnshire beat Worcs and Notts beat Warks. In the u120, Staffs beat leaders Derbys to open up that section.
24 Nov. In the u140 competition, home teams had a good day: Notts beat Warks, Derbys beat Leics, and Worcs beat Staffs
Carlsen retains World Championship
29 Nov. After twelve standard play draws at London, Carlsen crushed Caruana 3-0 in the quickplay play-off.
MCCU players at Bled World Seniors Championships
24 Nov. Keith Arkell finished 7½/11 in 9th position and Lee Davis was on 4½ points.
Bolton Rapidplay
18 Nov, Rod Middleton reports. The open section was dominated by Paul Macklin (Chorlton, GMC) with a 100% score of 6pts. The key game was a 4th round encounter with Ali Jaunooby, where Paul who was over 5 minutes behind on time, blitzed an ending with less than a minute left on his clock. Szilard Tamas (Sheffield) was the sole winner of the Major. The Knights finished in a tie between Alex Sosnowski (Eccles) and Steve Whatmore (Birmingham). The eventwas held at the Bolton Ukrainian Social Club and 76 players competed.
County match results
17 Nov. Warks defeated Leics and remain the only winning team in the u100 competition
10 Nov. In the u140 competition, Leics beat Staffs and Notts beat Derbys
3 Nov. Two u120 matches this weekend: Warks drew with Leics and Notts beat Worcs.
Dates for centennial county team competitions
31 Oct, ECF reports. Mark Murrell, Director of Home Chess has published the default dates for national stages of this year's centennial inter-counties competitions.
Preliminary Rounds – Saturday 27th April 2019
Quarter Finals (Open, Minor, Under 160, Under 120) – Saturday 11th May 2019
Quarter Finals (Under 180, Under 140, Under 100) – Saturday 18th May 2019
Semi-Finals – Saturday 8th June 2019.
Finals – Saturday 13th July 2019
County match results
27 Oct. Warks u140 beat Staffs, Worcs beat leics and Derbys beat Lincs
20 Oct. Derbys beat Leics in the u120 and Warks beat Notts in the u100.
Click "News" on the menu bar above for other recent items.
Next in the Midlands
Fri-Sun 4-6 Jan. Shropshire Congress at Wrekin Housing Trust, Colliers Way, Telford TF3 4AW. FIDÉ Open, Major, Intermediate and Minor tournaments.
Next Midlands & national junior events
Sun 13 Jan. Leicester Junior Open Congress at Leicester Grammar School, London Road, Great Glen. From 9:30am to 5:30pm, 6-round graded rapidplay, Open, Major u80, and minor u30.
Next National Event
Fri 28 Dec to Sun 6 Jan. Hastings International Chess Congress at Horntye Park Sports Complex, Hastings TN34 1EX. Hastings Masters, Christmas Tournament with graded sections, New Year morning and afternoon tournaments and Weekend Congress with open, u160, and u130 tournaments.
The "chess counties" forming the MCCU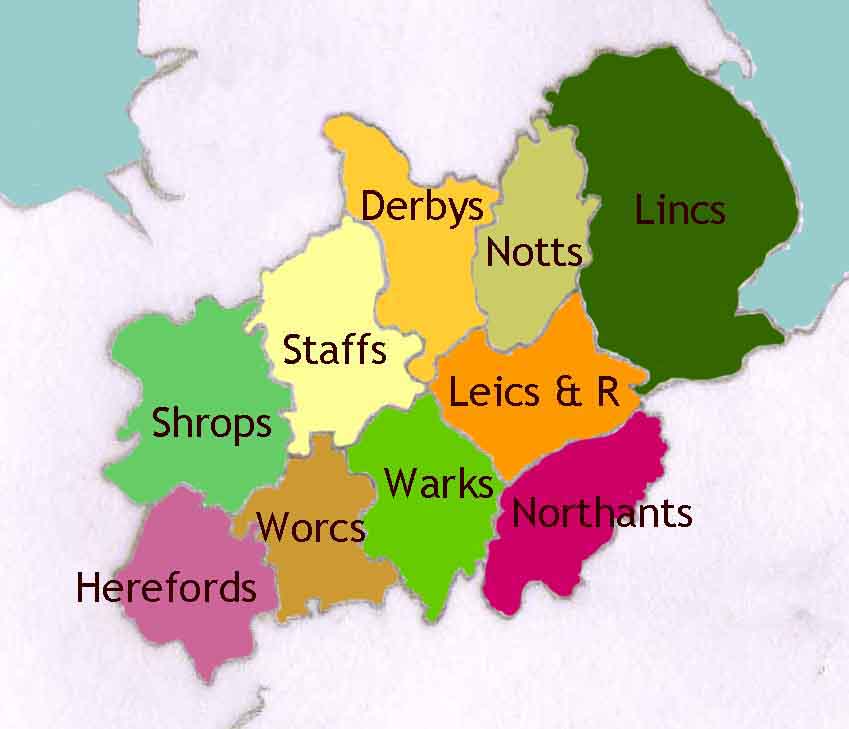 Eleven "Chess Counties" form the Midland Counties Chess Union and cover the areas shown in the map on the right. A small Board of volunteer directors currently led by Chief Executive Ray Dolan (Staffs) is elected annually by delegates from member chess counties. The Board organises regional competitions based on policies agreed annually by delegates from member chess counties.
By playing in the competitions hosted on this website you agree that your name, chess grade and your membership status with the English Chess Federation (ECF) may be published on this website for the purposes of recording the results of the competitions. You also agree that such information will be passed to the ECF, the governing body, for grading purposes, and published on their website.