Latest MCCU News
County match results
15 Feb. Undefeated Warwickshire win Midlands team Championship. Worcs gain their first win. It is believed that this match may be a historic first with a female board 1 for a county first team. Warwickshire have a home win against Leicestershire and finish their season without loss.
RIP John Pakenham, President MCCU
9 Feb. MCCU CEO Ray Dolan records that John was for many years a Warwickshire delegate to the MCCU followed by positions as non-executive director, chairman and than President. For longer than a decade he helped organise the Birmingham Rapidplay and was an enthusiastic and much appreciated volunteer coaching young children at the Bloxwich Junior Chess Academy. His contributions will be sorely missed. John Fahy, secretary Warley & Quinborne CC, writes: "Sadly John Pakenham passed away peacefully in his sleep last night. He was taken ill again shortly after Christmas/New Year and bravely faced up to the situation, never once feeling sorry for himself and always thinking of those around him. He will be sadly missed at Warley & Quinborne and in the wider chess community having served to provide and promote chess for many a decade. Our thoughts and prayers are with John and his lovely family. Details of his funeral arrangements will follow in due course."
National stages County Team competitions
ECF website reports. Nominations are due by 22 March. The draw will be published 1 April and the default dates are: for Preliminary rounds 25 Apr; quarter Finals 16 May; semi-finals 13 June and the finals will be on 4 July at Holiday Inn, Birmingham Airport-NEC.
County match results
8 Feb. Leics conceded their u140 match against Lincs. In the u120, Nottinghamshire beat Derbyshire. In the u100, and Leics beat Worcs.
Bloxwich Junior club 10 years old!
4 Feb, Ray Dolan reports. Walsall's mayor and mayoress Paul and Chris Bott invited Bloxwich Juniors to the Mayor's Parlour to join them celebrate their tenth birthday. Starting with only 6 players, the club now has 30 members. The club has provided 5 players for English squads in recent years. See pics on junior page.
County match results
1 Feb. In the Minor counties, Warks beat shrops and Leics beat Worcs. Greater Manchester narrowly beat Notts in the u160 to earn a Midlands nomination for the national stages.
25 Jan. In a 12-board match, Notts beat Shrops in the Minor Counties. In the u100, Notts Juniors lost heavily to Warks and Leics beat Notts.
18 Jan. In the Minor Counties, Lincs beat underdogs Worcestershire while in the u120, Leicestershire beat Staffordshire, Notts nearly annhilated Worcs and Shrops beat Derbys.
Robert Richmond (1956-2020)
Former Nottinghamshire CA delegate to MCCU Robert Richmond's death was announced. While a student, Robert was President of Cambridge University CC. He was a strong player and turned down an FM title earned for his second place in the 2004 FIDE World Major (Smith and Williamson). Robert will be best remembered for his contributions to chess orgaisation being BCF's Finance Director (2003-8) and Nottinghamshire CA's President 2010-3. Robert's obituary by John Swain is on the ECF website.
Two MCCU counties to have teams in the national open stage in 2020
1 Jan, Peter Sherlock reports. Lincolnshire have elected to enter the Open and join Greater Manchester. The remaining five counties in the MCCU Minor competition now compete for three places in the national stage of the Minor Counties. Shropshire were the only team wanting to enter the national u180 competition.
Click "News" on the menu bar above for other recent items.
Next in the Midlands
Fri-Sun 21-23 Feb. Warwickshire Open Chess Championships Citrus Hotel, London Road, Ryton on Dunsmore, Coventry CV8 3DY.. Five-rounds, Open FIDÉ, u1975 FIDÉ tournaments, u140 and u110 tournaments.
Next Midlands & national junior events
Sat 28 Mar. English Primary Schools' Chess Association U11 Final at Grace Academy, Chapelhouse Road, Solihull
Next National Event
Sat & Sun 22 & 23 Feb. British Universities Team Championship at Holiday Inn Birmingham Airport, Coventry Road, Birmingham.
The "chess counties" forming the MCCU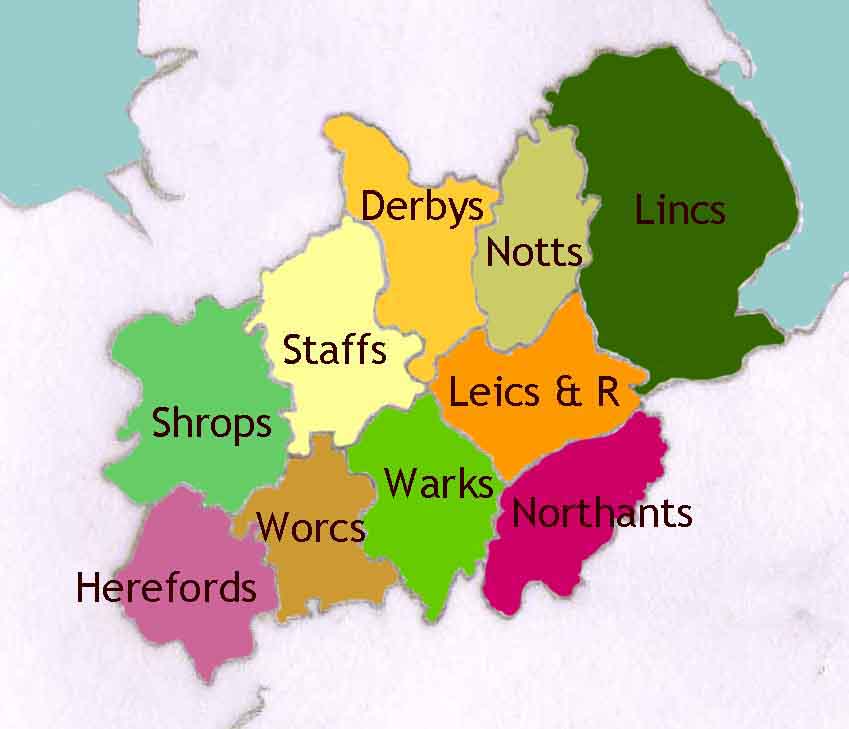 Eleven "Chess Counties" form the Midland Counties Chess Union and cover the areas shown in the map on the right. A small Board of volunteer directors currently led by Chief Executive Ray Dolan (Staffs) is elected annually by delegates from member chess counties. The Board organises regional competitions based on policies agreed annually by delegates from member chess counties.
By playing in the competitions hosted on this website you agree that your name, chess grade and your membership status with the English Chess Federation (ECF) may be published on this website for the purposes of recording the results of the competitions. You also agree that such information will be passed to the ECF, the governing body, for grading purposes, and published on their website.