Latest MCCU News
ECF finance council meeting raises subscriptions
22 Apr, Andrew Leadbetter reports. Most members will have to pay more next season, but junior bronze membership goes down slightly. Although the Game Fee was abolished, the pay-to-play (membership upgrade) fee has increased slightly. Council members voted to increase representation of direct members, but the vote did not reach the 75% threshhold for action.
MCCU CEO and Director honoured
21 Apr. Walsall's Mayor honoured Eunice & Ray Dolan for their contributions to Bloxwich and its community at the annual Walsall Civic Awards awards ceremony.
Left to right: Ray Dolan (MCCU CEO), Kath Phillips (Walsall Mayor)
and Eunice Dolan (MCCU director)
Bolton Easter congress sees home winner
18 Apr, Mick Norris reports. Joseph McPhillips (Bolton, GMC) was first in the Open with 4½/5 points. Martin Burns (Stockport, GMC), also on 4½ was first in the Major and Michael Fisher (Oldham) won the Knights tournament. Andrew Horton (3Cs, Oldham, GMC) won the Busy Persons Blitz with 7½/8 points. The event was organised by Rod Middleton and over 130 players competed. Further details on the ECForum.
Keith Richardson, correspondence GM dies
10 Apr, Ray Dolan reports. Keith was born in Nottingham, but spent much of his adult career working at Barclays Bank in London. He became a correspondence chess GM in 1975 and represented England in correspondence chess from the 1960s to the 1980s. The ECForum has a tribute from Andy Walker, Nottinghamshire Chess Association President, and two of Keith's games.
National club championships
2 Apr, ECF website reports. Newcastle-under-Lyme (Staffs) won the Intermediate Team Championship and Solihull (Warks) the Intermediate Plate. The Major team championship was won by Wanstead & Woodford (London). For full results see ECF website.
Junior upset at Nottingham Congress
2 Apr, David Levens and Robert Richmond report. The Open Tournament was won by 13-year-old Adi Munchi with 4½ points ahead of GM Arkell. Also on 4½ points, Stephen Hunter (Nottingham Gambit), won the Major; Parin Suchak (Syston, Leics) the Intermediate; and Leslie Fancourt (Derby) the Minor tournament. Over 150 competitors played in this event.
Draws published for county quarter finals
30 Mar. See county match national page. Warwickshire have three fixtures against Middlesex!
GM Hebden triumph at Birmingham Rapidplay
26 Mar. Mark Hebden (Leics) made a clean sweep with 7 to win the Open tournament outright. Simon Smith (Warley Quinborne, Birmingham) and Andrew Price (Leamington, Warks) shared the Major with 5½ and Windsor Peck (Halesowen, Worcs) and Michael Fisher (Oldham, GMC) were joint first in the Minor.
Hereford congress winners
12 Mar. Raymond Ilett (Peterborough) was first in the u195 tournament, Roy Watson (Kenilworth, Warks) first in the Major; and Dennis Bonner (Shrewsbury Telepost) shared first in the minor with four other players. The event was organised by Tony Corfe for Castle Chess and full results are here.
Final Midlands County teams title decided
11 Mar. In the u180 fixture, history repeated itself for the two teams to draw and share the title with Warks claiming the first MCCU nomination place for the national stage on board count. In the other match on the last day of the MCCU stages, Worcs u120 beat Staffs, to be entitled to MCCU's third nominated place.
Midlanders shine at Doncaster
19 Feb, Nick Arkell & Neil Graham report. Three MCCU players, Nick and Keith Arkell (both Halesowen, Worcs) and Mike Surtees (Great Lever, GMC), shared the first prize with Laurence Webb at the Doncaster Open. Martin Burns (Stockport, GMC) and Karl Popper (Syston, Leics) tied for first place in the Major section and Graham Neil (Nottingham Nomads) tied for first place in the Minor.
Midlands team championships shared
18 Feb. In the Minor Counties' team championship, Notts beat Worcs. Worcs and Lincs, coming from behind, share the Midlands championship title and Worcs will be MCCU's first nomination for the national stages. Also in the Minor, Lincs beat Leics. Staffs beat Lincs and Warks beat Worcs in the u120: Notts beat Leics to take the u100 team championship. Your webmaster avoided being run over by tuk-tuks on holiday and apologises for the late publication of the 4 Feb match result below.
4 Feb. Midlands u160 championship was shared between Warwickshire and Nottinghamshire and on board count Warwickshire will be MCCU's first nomination for the national stages.
Click "News" on the menu bar above for other recent items.
MCCU Congress at West Brom
Fri 11 to Sun 13 August 2017
For details, visit links from here or Congress and Junior Events pages
Next in the Midlands
Tue 16 May. Jon Speelman at Redditch Chess Club. Theory of pawn, rook and minor piece endings. 7:30pm at St John's Church Hall, Greenlands, Redditch B98 7PZ
Next National Event
Sat 22 May. ECF Finance Council Meeting @ Ibis Hotel, 21 Ladywell Walk Arcadian Centre, Birmingham B5 4ST
Next Midlands & national junior events
Sat 15 May. Warwickshire Megafinal UK Chess Challenge at WARWICK TRIDENT ACADEMY.
The "chess counties" forming the MCCU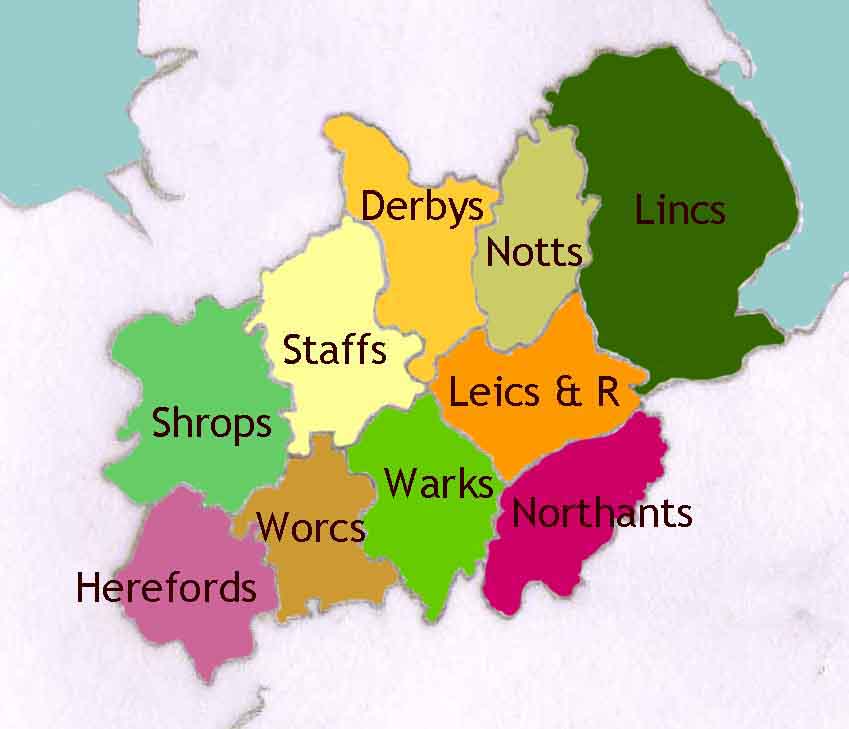 Eleven "Chess Counties" form the Midland Counties Chess Union and cover the areas shown in the map on the right. A small Board of volunteer directors currently led by Chief Executive Ray Dolan (Staffs) is elected annually by delegates from member chess counties. The Board organises regional competitions based on policies agreed annually by delegates from member chess counties.