Latest MCCU News
County quarter final and preliminary round results
Three Midlands teams through to finals and an all-Midlands u100 final
8 Jun. In the Open, Surrey beat Manchester; in the Minor counties Lincolnshire went through on board count to play Devon in the finals; in the u180 Warwickshire defaulted against Essex; in the u160 Nottinghamshire lost to Middlesex; in the u140 Worcestershire beat Essex and play Yorkshire in the final; the u120 result is awaited and both Midlands teams won in u100 with Nottinghamshire beating Warwickshire and Staffordshire beating Lancashire. The national finals will be held at Kettering Northants on 13 July.
Seven Midlands teams through to semi-finals.
18 May. Another three Midlands teams go to semi-finals. Worcestershire u140 beat Herts, but Notts u140 fall to Kent. Staffs had double victories over Norfolk in the u120 and the u100 matches. Notts beat Essex in the u100 competition.
11 May, Neil Graham and ECF report. Three teams go to semi finals.In the Open competition, GreaterManchester beat Sussex in their quarter final match, but Leics were knocked out by Middlesex. Notts lost to Devon in the Minor Counties quarter final, but in the Devon-Notts u160 match Notts squeezed through on the second tie-break after an 8-8 result. Manchester u160 lost to Suffolk. In the u120, Notts beat Kent, Derbys lost to Yorks.
Midland counties correspondence teams
1 May, Phil Morgan reports. Notts currently lead Division 2 of the Counties and District Correspondence Chess Club competition with 8½ points from 11 completed games, but Essex B have 7/7 points and seem likely to win the Sinclair Trophy. Warks B - on 5½/9 - and Worcs - on 3½/11 - also compete in the same division. Warks A compete in Division 1 (5/8 so far). Lincs (7½/9) lead Division 3 in the fight for the Butler-Thomas Trophy and Staffs (5½/10) also play in Division 3.
Derbyshire u120 through to quarter final
27 Apr. Derbys won their match against Herts and play Yorkshire next round.
MCCU AGM
24 Apr, Ray Dolan reports. The MCCU Annual Meeting will be held Saturday 15 June at Rolls Royce Derby. Papers will be sent to county secretaries, delegates and officers nearer the meeting.
IM Joseph McPhillips wins Bolton Easter congress
McPhillips (Bolton, GMC) had a clean sweep and was 1½ points ahead of the field in the Open. Martin Burns (Stockport, GMC) won the Major with 5 points and Arpad Busznyak (Bolton, GMC) the Minor with 4½ points. The Busy Person's Blitz was a tie between GM Stephen Gordon and Joseph McPhillips with 7 points from 8 games. The tournaments were organised by Rod Middleton and attracted 140 entries.
Midlands Junior Champions
21 Apr. Kishan Modi (Leics Jun) was U18 champion with 6 points, The U14 prize was shared by Jason Lv (Leics Jun) and Pavel Marowski ((Oxen Jun) 4 points. The U11 winner was Jude Shearsby (Coventry Chess Acad) 4 points and the U9 champion was Elis Dicen (St Patrick's Birmigham) Winners took home up to £300 in prize money. Full prize list and link to cross-tables..
Midland masters success in Rhodes
17 Apr. IM Robert Bellin (Walsall, Staffs) played board 1 in England 65+'s Silver Medal team placed behind Russia. In the Senior 50 team competition, GM Keith Arkell (Halesowen, Worcs) won an individual silver medal. See Stewart Reuben's report..
Cannock & District League celebrate 20th Birthday
2 Apr, Ray Dolan reports. The league was founded in 1999 by Robert Mayne, Brian Lynam, Robin Lewis and Ray Dolan. It now has twelve clubs competing in three divisions and competitions for the Chase and Robert Ward trophies. Visit CDCL website.
Click "News" on the menu bar above for other recent items.
Next in the Midlands
Fri Jul 19 – Sun Jul 21. 4NCL FIDE Rated Congress @ Ramada Hotel Telford Ironbridge Forge Gate Telford. FIDE Open, FIDE U2000 (ECF U175), ECF U135. Five rounds
Next Midlands & national junior events
30 Jun, Solihull Junior Open at Grace Academy, Chapelhouse Road, Birmingham B37 5JS. Four sections for players under 11; two sections for players under 18
Next National Event
Sat 13 Jul. ECF County Championship finals. Kettering Conference & Leisure Centre, Thurston Drive, Kettering, NN15 6PB
The "chess counties" forming the MCCU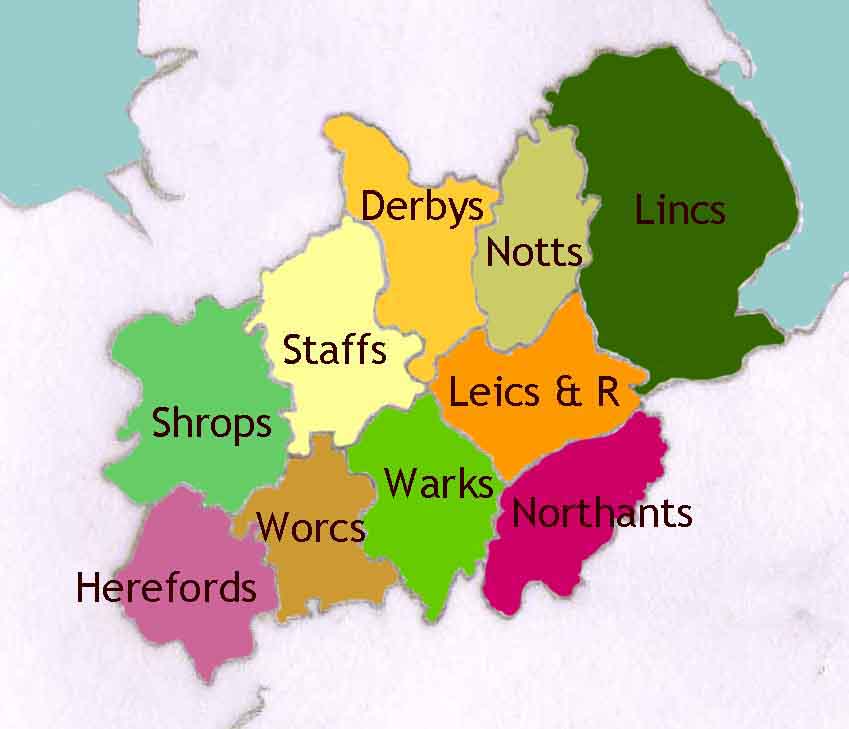 Eleven "Chess Counties" form the Midland Counties Chess Union and cover the areas shown in the map on the right. A small Board of volunteer directors currently led by Chief Executive Ray Dolan (Staffs) is elected annually by delegates from member chess counties. The Board organises regional competitions based on policies agreed annually by delegates from member chess counties.
By playing in the competitions hosted on this website you agree that your name, chess grade and your membership status with the English Chess Federation (ECF) may be published on this website for the purposes of recording the results of the competitions. You also agree that such information will be passed to the ECF, the governing body, for grading purposes, and published on their website.