Latest MCCU News
Birmingham Rapidplay results
12 Jun. GM Mark Hebden (Leics) shared first place in the Open with Yichen Han (Northumberland). Both players finished on 6 points from 7 rounds. IM Lawrence Cooper (Shrops) was on 5½ and young Finlay Terry Bowcott (Solihull) on 5. The Major was won by Heinrich Basson (South Africa) on 6/7; the Intermediate by Alexander Chmelev (Twickenham) on 6½/7; and the Minor was shared by Sathya Vaidyanathan (Warks Juniors) and Joseph Ward (Leics) on 6½. The organiser was Alex Holoczak and the event was a sell-out with 150 players.
Warwickshire under-1650 only Midland finalist
11 Jun. Warwickshire were the only successful Midland semi-finalists beating Yorkshire convincingly in the under-1650 competition. Greater Manchester lost to Yorkshire in the Open, Warwickshire lost to Norfolk in the Minor counties' competition, Nottinghamshire pulled out of their match against Essex in the under-2050, and Nottinghamshire under-1450 lost heavily to Essex. See national results.
Warwickshire under-1650 progress to semi-finals
21 May. Warwickshire under-1650 team beat Essex in the only quarter final in this competition and will meet Yorkshire in the semi-finals. See score card.
Worcestershire fall to Cambridgeshire
14 May. Worcestershire went down narrowly to Cambridgeshire in the Minor Counties tournament. The result was in doubt until the end of the last game. Greater Manchester defaulted their match against Middlesex in under-1850 tournament. See score card. Greater Manchester defaulted their under-1850 match against Middlesex.
Midland over-50s shine in Senior English Championship
8 May. Mark Hebden, 6½ points (Leics) was first, Keith Arkell, 6 points (Worcs) second, and Don Mason, 4½ points (Warks) shared third place. More details.
Annual meeting on 25 June
6 May, Ray Dolan reports. The AGM will be held on Sat 25 June at Rolls Royce, Derby. Please contact Ray Dolan if you want issues raised. Use this link to read reports to be considered at the 2022 meeting.
Nottinghamshire u1450 team through to semi-finals
30 Apr. In the first quarter final match involving Midland teams, Nottinghamshire seniors saw off their junior opponents for the second time this season- the first was in the MCCU match - and progress to the semi-finals in the under-1450 competition. See details. Nottinghamshire will face Essex in June.
Nottingham Congress results
24 Apr. FM Jonah Willow (Notts) was first in the open on 4½ points ahead of Brandon Clarke and GM Mark Hebden. Sammy Benzaira (Notts) shared first place in the Major with James Luong Alejandro Lopez-Martinez, and David Wells (all Yorks). There was also a four-way tie in the Intermediate: John Robinson (Leics), Bill Ward (Yorks), Paul Wheatley (Yorks) and Andre Cockburn (Derbys). The Minor was won outright by James McBain, 5 points, and the Improvers by Joseph Hogan, 4½ points. A hundred players competed.
Click "News" on the menu bar above for other recent items.
Next in the Midlands
Sun 3 July. Cleethorpes Rapid 10:00-16:30 at Cleethorpes Leisure Centre, Kingsway, Cleethorpes, DN35 0BY. Three sections: Open, Major (below 1900), Minor (below 1600), six rounds, time control 20 min+10 sec.
Next Midlands Junior Chess
Fri 8 - Sun 10 July. Youth Championship National Final at Nottingham HS, Waverley Mount, Nottingham NG7 4ED. Five rounds, 90min+30sec, half-point byes permitted in rounds 1-4, FIDE rated
Online events
Link for all ECF online events


The "chess counties" forming the MCCU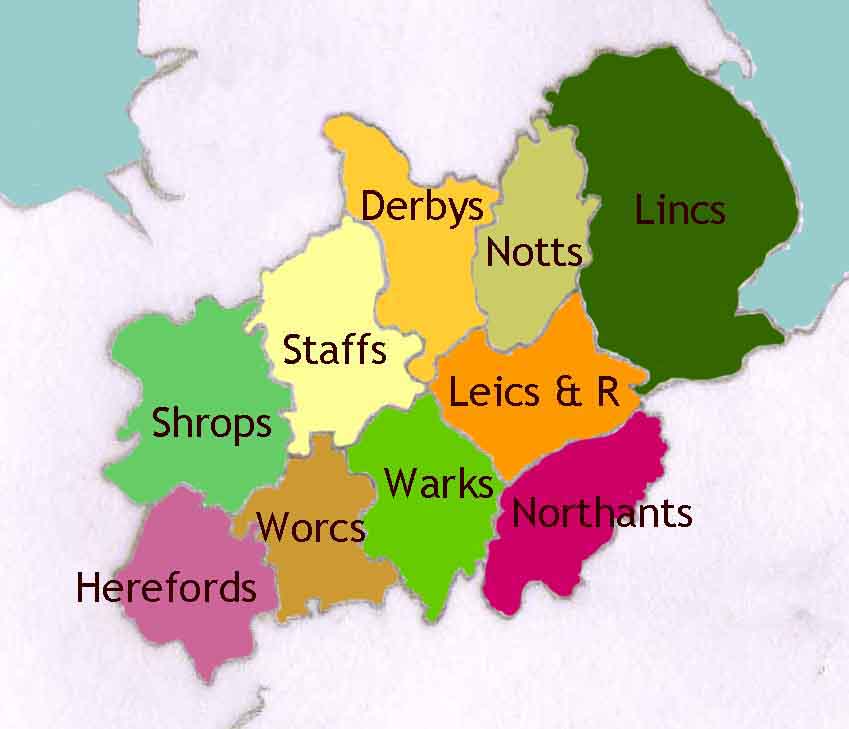 Eleven "Chess Counties" form the Midland Counties Chess Union and cover the areas shown in the map on the right. A small Board of volunteer directors currently led by Chief Executive Ray Dolan (Staffs) is elected annually by delegates from member chess counties. The Board organises regional competitions based on policies agreed annually by delegates from member chess counties.
By playing in the competitions hosted on this website you agree that your name, chess rating and your membership status with the English Chess Federation (ECF) may be published on this website for the purposes of recording the results of the competitions. You also agree that such information will be passed to the ECF, the governing body, for rating purposes, and published on their website.