Latest MCCU News
MCCU Directors receive community award
30 Dec. Eunice and Ray Dolan have received a Walsall Community Community Recognition award for their contributions, over many years, to Goscote Greenacres and Swannies Field community spaces as well as their leadership of Bloxwich Junior Chess Academy.
Andrew Davies 1960-2020
The death is reported of Brewood Club and Staffordshire stalwart Andrew Davies. Although living with health and physical problems he contributed principally as an organiser becoming secretary of Brewood club in 1995 and then qualifying as a coach for junior players before becoming ECF Manager for coaches and MCCU Director for Junior Chess. He also served as webmaster for English Primary Schools Chess Association and was Staffordshire CA secretary. Tributes by Robert Milne and Traci Whitfield and David Blower testify to the enthusiasm he brought to organising the game and his talent for making new players welcome.
Greater Manchester scoop two online championships
15 Nov. Worcestershire beat Shropshire 8-4 in an online match in the open tournament. Links for MCCU online county match results.
31 Oct. Greater Manchester decisively beat Worcestershire in the online open team championship match 12½-2½. The Shrops-Worcs match was postponed and the Mancunians are Open Team Champions because they beat both teams. Greater Manchester celebrate a double because their u1825 team won the grade-limited competition earlier. Their teams did so in fine style with clear victories against Shropshire and Worcestershire.
Greater Manchester win u1825 Autumn competition
10 Oct. National winning teams GMC and Worcestershire played the first ever online MCCU team competition match. Greater Manchester faced Worcestershire with the teams looking well-matched. Greater Manchester prevailed by a clear 8½-3½ margin to become the first MCCU online champions.
West Midlands Area Summer winners
8 Oct. At the end of the West Midlands Area Summer season, Sutton Coldfield 1 emerged as champions defeating runners-up Solihull 1 in the final weekend of the Summer season in Division 1. Coventry Chess were Division 2 champions. See full details from ECF League Management System.
Worcestershire and Greater Manchester win national honours
22 Aug. In the ECF Counties Championships Online, Lincolnshire lost to Northumberland in the Open and were also defeated in their u1825 match against Essex ending their dreams of a history-making double. The other Midlands finalists won their matches. Worcestershire beat Somerset, but by a narrower margin than when they met in the group stage. Greater Manchester beat Norfolk in the u1825 Challengers final. See full results linked from the national county match page.
8 Aug. Lincolnshire beat Norfolk in the Open and Worcestershire beat Berkshire in the Minor Open to go to the national finals. In the Major Open, the Mancunians lost to Yorkshire and Shropshire lost to Middlesex B in the Open Challengers. Lincolshire u1825 team kept pace with its senior team and also booked a place in the final by beating Middlesex, while Greater Manchester u1825 beat Surrey.
Click "News" on the menu bar above for other recent items.
Next in the Midlands
All over-the-board events have been cancelled, postponed or suspended.
Online events
Link for all ECF online events
Thursdays: West Midlands Area Online evening rapidplay league
8 Jan. Birmingham & DCL Standardplay closed Swiss Tournament, Fridays

The "chess counties" forming the MCCU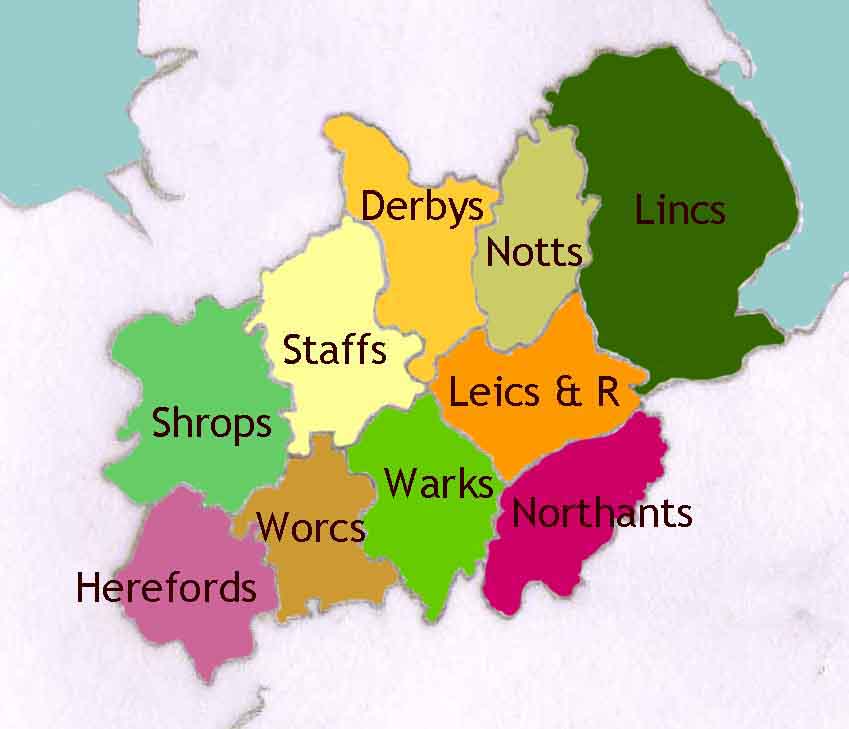 Eleven "Chess Counties" form the Midland Counties Chess Union and cover the areas shown in the map on the right. A small Board of volunteer directors currently led by Chief Executive Ray Dolan (Staffs) is elected annually by delegates from member chess counties. The Board organises regional competitions based on policies agreed annually by delegates from member chess counties.
By playing in the competitions hosted on this website you agree that your name, chess grade and your membership status with the English Chess Federation (ECF) may be published on this website for the purposes of recording the results of the competitions. You also agree that such information will be passed to the ECF, the governing body, for grading purposes, and published on their website.
The MCCU
The current webmaster is Ray Collett (Worcs). The website's policy is to report results of the MCCU competitions, principally the MCCU county team tournaments and congresses. Brief results of other chess congresses held in the MCCU area and and links to organisers' websites are on the "News" pages. A calendar of upcoming chess congresses is on the "Congresses" pages. Some important national and international chess events will also be reported if there is a "Midlands" interest. In the menu bar above: "About" gives more information about the MCCU and has links to rules and administrative papers; "Guide" explains the site's organisation and provides links to most of the site's key pages.
Please send news of Midlands chess events, corrections, notifications of broken links, and suggestions to improve the website to Ray Collett.