Latest MCCU News
Midlands counties in online championships
4 Jul. Lincolnshire beat Leicestershire, and other Midlands teams lost matches: Greater Manchester to Norfolk; Derbyshire to Gloucestershire; and Worcestershire narrowly to Cumbria. In the u1825 competition, Lincolnshire beat Norfolk and Greater Manchester lost to Northumberland. After two rounds in the Open Divisions, Lincolnshire share the lead with Middlesex A in their group and Shropshire share the lead in thiers. Lincolnshire also have sole lead in u1825 group A. For full results see 2020 county national results.
Nine Midlands teams in first round of counties online tournaments
20 Jun. Against teams from other chess unions in the Open Divisions, Midlands teams scored one win, one draw and one loss. Lincolnshire beat Cheshire. Greater Manchester drew with Surrey and Leicestershire lost to Devon. Matches between Midlands teams saw Derbyshire beat Warwickshire while Shropshire beat Worcestershire.In the u1825 competition, all MCCU teams play in Group A, but only Lincolnshire were able to win, beating Leicestershire handsomely. For full results see 2020 county national results.
Marek Soszynski achieves Correspondence title
10 Jun. Marek, a member of Sutton Coldfield (Warks) was awarded the title of ICCF Correspondence Chess Master.
Seven Midlands counties play in ECF preliminary round
6. Jun. The preliminary round was organised so that players and team captains could get used to the new format. Midlands teams fared poorly. In the Open Divisions, Only Warwickshire won their match - against Hampshire. Derbyshire had a torrid time against Somerset. Leicestershire were split several ways drawing an under-1825 mini-match against Middlesex. For further information go to 2020 county national results
Seven Midlands counties enter team in ECF online counties tournaments
4 Jun. Derbyshire, Greater Manchester, Leicestershire, Shropshire, Warwickshire, and Worcestershire have entered teams in the new online counties competitions organised by the ECF in response to the Covid-19 pandemic. There are twenty three counties playing nationwide. There are two Open Divisions, both split into two pools. The two highest placed teams from each pool play to go through to the competition semi-final matches. The open competition starts on 20 June. Greater Manchester, Leicestershire and Lincolnshire are fielding both Open and u1825 teams.
Click "News" on the menu bar above for other recent items.
Next in the Midlands
All over-the-board events have been cancelled, postponed or suspended.
Online events
Sat 18 Jul. ECF Online counties Championship. Third round.
Fri & Sat 26 & 28 Jun. National Online Club Championship. A six board team competition entries by 21 June. A 5-round Swiss competition with time control 45 min + 15 seconds from move 1.
The "chess counties" forming the MCCU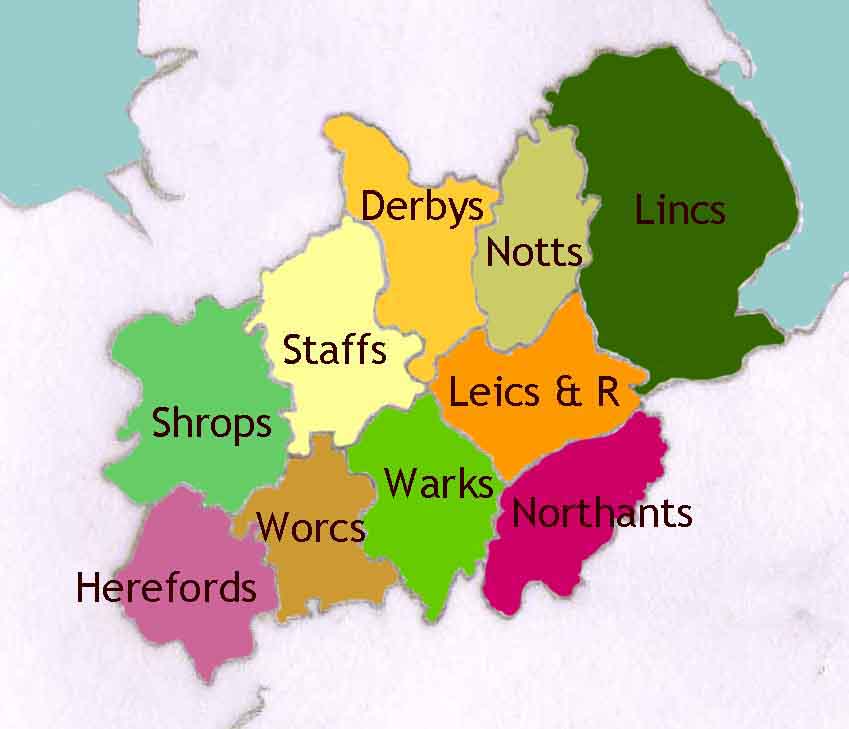 Eleven "Chess Counties" form the Midland Counties Chess Union and cover the areas shown in the map on the right. A small Board of volunteer directors currently led by Chief Executive Ray Dolan (Staffs) is elected annually by delegates from member chess counties. The Board organises regional competitions based on policies agreed annually by delegates from member chess counties.
By playing in the competitions hosted on this website you agree that your name, chess grade and your membership status with the English Chess Federation (ECF) may be published on this website for the purposes of recording the results of the competitions. You also agree that such information will be passed to the ECF, the governing body, for grading purposes, and published on their website.
The MCCU
The current webmaster is Ray Collett (Worcs). The website's policy is to report results of the MCCU competitions, principally the MCCU county team tournaments and congresses. Brief results of other chess congresses held in the MCCU area and and links to organisers' websites are on the "News" pages. A calendar of upcoming chess congresses is on the "Congresses" pages. Some important national and international chess events will also be reported if there is a "Midlands" interest. In the menu bar above: "About" gives more information about the MCCU and has links to rules and administrative papers; "Guide" explains the site's organisation and provides links to most of the site's key pages.
Please send news of Midlands chess events, corrections, notifications of broken links, and suggestions to improve the website to Ray Collett.