Latest MCCU News
Wolverhampton League
29 Apr. Wolverhampton & District CL truncate 2019-20 season. Halesowen are league champions, Kidderminster A win Div 2, Oscott B Div 3 and Rushall B Div 4. See full results.
West Midlands Area On-line League results
23 Apr. The first matches were played and results are published on the ECF League Management System.
16 Apr. A trial run for newbies to on-line chess saw some exciting games and a few fat fingers. Sixteen teams from twelve clubs including one by invitation from the Isle of Wight are likely to compete.
Worcestershire declares 2019-20 league season void
16 Mar. The Worcestershire, Worcester and District and Dudley and District league season has been declared void with no team champions. All completed game results will be submitted for grading.
Proposed West Midlands on-line league
10 Apr. Neil Clarke (S Birmingham), Phil Maybury (Warley) and Nigel Towers (Redditch) are asking clubs in the West Midlands area to field teams in an on-line quickplay league to run from April to June.
Coronavirus: league suspensions, congress cancellations
15 Mar. After the English Chess Federation recommended chess leagues to suspend for a period, many MCCU leagues have stopped over-the-board play: Birmingham & Dist, Cannock & Dist, Dudley & Dist, Leamington & Dist, Leicestershire & Rutland, Manchester, North Staffordshire, Nottinghamshire, Shropshire, Stockport, Wolverhampton & Dist, Worcester & Dist, and Worcestershire because of the Coronavirus epidemic. Also cancelled are several congresses: 4NCL FIDÉ Easter congress at Kenilworth, Bolton Easter, and Notts CA.
County match results
14 Mar. Warwickshire u160 Midlands champions. Lincs beat Notts in the MCCU championship and join Warks at the top of the table. In the u160 competition, Warks beat Derbys to become Midland u160 champions.
12 Mar. Worcestershire u100 team defaults two matches on fears of Coronavirus. Notts and Leics share the u100 Midlands title.
1 Mar. In the Minor Counties, Leics beat Notts. Worcestershire u140 beat Lincs and finished with wins in all their matches to qualify for the national stages. In the u100, Warks beat Staffs. The default date for Preliminary round national stage games is on or before Sat 25 April.
Warwickshire Open Congress
23 Feb. GM Mark Hebden wins Warks Open. Mark was sole first on 4½ points from 5 games ahead of FM Jonah Willow. The Women's prize was won by Anna Szasz (Yorks Jun) and is joint Warwickshire women's champion with Imogen Dicen (S Birmingham), Lionel Riou-Durand (France) was first in the u1975; Phil Foley (London) won the u140; and Phil Love (Newport, Shrops) the u110 tournament.
County match results
22 Feb. In the Minor Counties, Lincolnshire beat Shropshire in a 12-board match when flooding would have made travel difficult. In the u120 competition Worcestershire beat Derbyshire.
15 Feb. Undefeated Warwickshire win Midlands team Championship. Worcs gain their first win. This match saw a historic first with a female board 1, IWM Kata Toma for Worcestershire and possibly first in any MCCU county first team match. Warwickshire have a home win against Leicestershire and finish their season without loss.
Click "News" on the menu bar above for other recent items.
Next in the Midlands
All events cancelled, postponed or suspended.
Next Midlands & national junior events
All events cancelled, postponed or suspended
Next National Event
All events cancelled, postponed or suspended
The "chess counties" forming the MCCU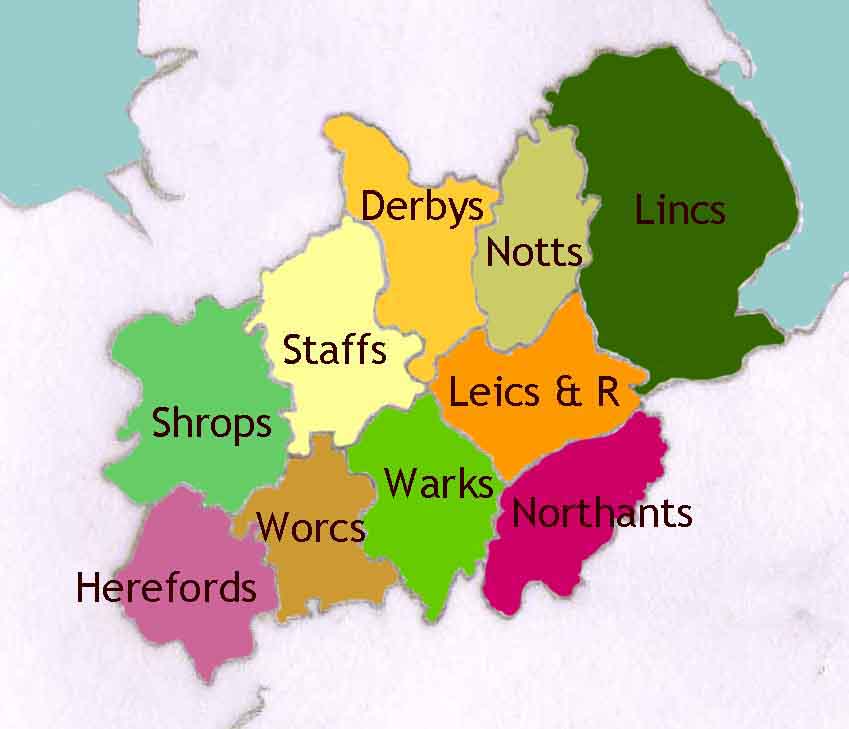 Eleven "Chess Counties" form the Midland Counties Chess Union and cover the areas shown in the map on the right. A small Board of volunteer directors currently led by Chief Executive Ray Dolan (Staffs) is elected annually by delegates from member chess counties. The Board organises regional competitions based on policies agreed annually by delegates from member chess counties.
By playing in the competitions hosted on this website you agree that your name, chess grade and your membership status with the English Chess Federation (ECF) may be published on this website for the purposes of recording the results of the competitions. You also agree that such information will be passed to the ECF, the governing body, for grading purposes, and published on their website.