Latest MCCU News
Notts win first county match
21 Oct. Notts get the season underway with a win against Warks in the Midlands team championship.
Halesowen, national chess club of the year.
21 Sep.The English Chess Federation selected Halesowen from six other nominated clubs as 2017 Chess Club of the Year. Read the club's submission from the link in the news column of their home page.
Rugeley - Chess Staffs club of the year
6 Sep, Ray Dolan reports. Chairman Patrick Waller received the award from Ray Dolan for the fifty years' services to Staffordshire chess.
Three new teams in MCCU county team competitions
3 Sep, Peter Sherlock reports. Derbyshire, Leicestershire and Warwickshire have entered additional teams for the 2017-8 season. Warwickshire entered a new u140 team and the u120 competition has two extra teams: Derbyshire and Leicestershire. Like the previous season, all counties competing for the Midlands Team Championship decided to enter the Minor Counties, but the top two teams will be offered the chance to compete in the Open section of the national stage.
MCCU-Natcor correspondence match starts September
30 Aug. Fourteen players from six counties represent the MCCU team led by CEO Ray Dolan. Methods of play include web-server, e-mail and post. Play commences 3 September with each players having two games against the same opponent and games will be played until a result is agreed. See details on correspondence chess web page.
Manchester Summer Congress results
20 Aug reported by MCF website. There was a five-way tie for first place in the Open: GM Nigel Davies, Joseph Phillips (Bolton, GMC), Adam Ashton (3Cs, Oldahm, GMC), Jonathan Blackburn (Holmes Chapel) and Mike Surtees (Great Lever, GMC) scored 4/5. In the Major Kirs Kursed (Northwich) was sole first with 4½ points and the Summer Knights was won outright by British under-10 champions Ethan Chung (S Wales) with 5 points. Nearly 140 players competed.
Keith Arkell wins MCCU tournament and is 2017 MCCU champion
13 Aug. In the open, GM Keith Arkell (Halesowen) was first on 4½ followed by Peter Sowray and Conor Murphy on 4 points. The clash between GMs Arkell and Hebden was in round 4 when Arkell again demonstrated how to win with rook and bishop against a rook. The major was won by Graham Ashcroft with 4½ points and the Midlander Nathanael Paul (Newport, Shrops) shared second place on 4 points. Chris Fraser (West Bridgford, Notts) was clear first winning all his games in the Minor tournament. Visit the congress page to see full list of prizewinners. The congress was organised by Alex Holowczak and the MCCU and attracted a hundred players.
MCCU correspondence team plays Natcor
27 Jul, Ray Dolan reports. Fourteen players will represent the MCCU in the match that is scheduled to start in September.
CEO doubles up as Staffs secretary
18 Jul, Steve Emmerton reports. Ray Dolan was elected honorary secretary for Staffs CA at their AGM and Andrew Davies steps down to concentrate on his MCCU youth role.
MCCU retiral gift to PeterGibbs
13 Jul. Eunice and I on your behalf visited Peter and Celia Gibbs to present him with gift and thank-you card signed by members for 9 years as President of MCCU. Thank you for everything you done for Chess.
| | |
| --- | --- |
| Eunice and Ray Dolan present Peter Gibbs (centre) with thank-you card and gift | Peter Gibbs, on the right playing black, faces Spassky in the 1960 UK-USSR students' team championship match at Leningrad (now St Petersburg) |
Ashton Rapidplay results
9 Jul. The u150 section was won by Paul Woodfinden (Northwich) and u130 grading prize by Phil Colville (Macclesfield, GMC); the u115 section by Michael Fisher (Oldham, GMC) with the u95 grading prize going to local player Denzel Supatan (Ashton, GMC); the u80 section was won by Sajjad Dehghan-Afifi (Sale, GMC). The Tameside jun ior prize went to Ross Evans (Ashton). After the congress, director David Hardy thanked CSC and Ashton Town Council for support and declared: "The success this year means it will become a firm fixture in the chess calendar". See ECF website for pics and full results.
Two Midlands teams win national counties finals
1 Jul, Nigel Birtwistle reports. Lincolnshire beat Suffolk to win the Minor Counties final. In the all-Midlands under-100, Leicestershire had a clear win over Warwickshire. Nottinghamshire under-140s went down to Lancashire.
MCCU annual meeting: new president and correspondence team
17 Jun. John Pakenham (Warley Quinborne & Warks) was elected. Other new post-holders are: Meetings Chairman - Paul Sharratt (Stourbridge & Worcs), Safeguarding Officer - Andrew Davies (Brewood, & Staffs). The MCCU has challenged Natcor, National Correspondence Chess Club, to a 12-board friendly match with 4 boards each webserver, e-mail and traditional postal. Please contact Ray Dolan if you would like to represent the Midlands.
Click "News" on the menu bar above for other recent items.
Next in the Midlands
Sun 5 Nov. Bolton Rapidplay at The Ukrainian Social Club, Bolton BL2 1JP. 10am to 7pm, 6 rounds, Open, Major (165 max), and Knights (130 max), tournaments.
Next Midlands & national junior events
Sat 25 Nov. Northampton London Junior Chess Championships Qualifying Event at Chisholm School, Northampton NN4 6TP. 10am to 5:30pm, 6 rounds, under-8, under-10, under-12, and under-18 tournaments.
Next National Event
Sat & Sun 18 & 19 Nov. British Rapidplay Chess 2017 at Ilkley, West Yorks 11am to 6:30pm Sat and 9:30am to 5pm Sun.
The "chess counties" forming the MCCU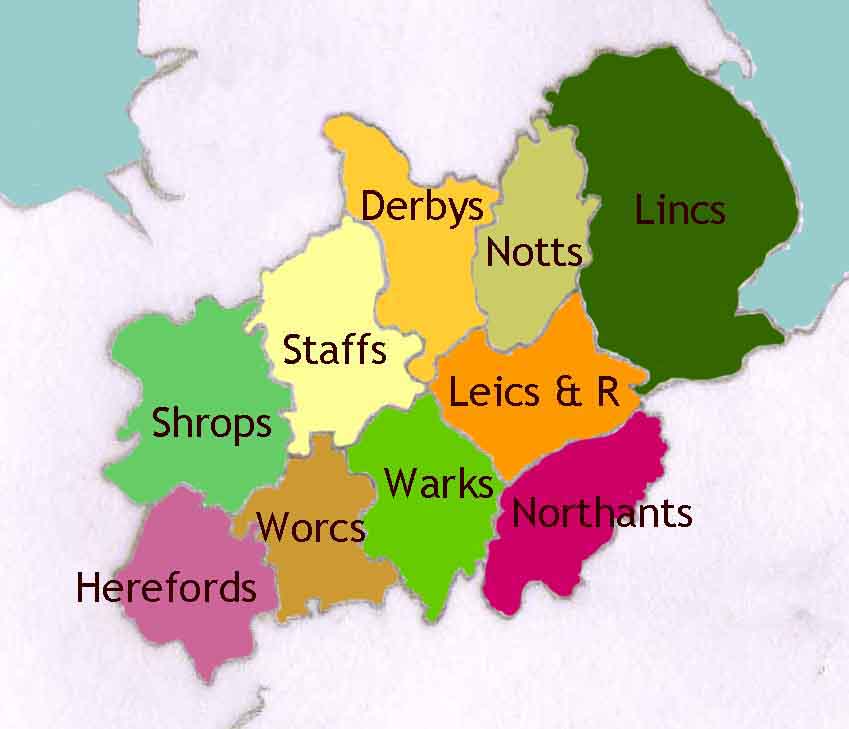 Eleven "Chess Counties" form the Midland Counties Chess Union and cover the areas shown in the map on the right. A small Board of volunteer directors currently led by Chief Executive Ray Dolan (Staffs) is elected annually by delegates from member chess counties. The Board organises regional competitions based on policies agreed annually by delegates from member chess counties.