Latest MCCU News
New grading list published
26 Jul. The latest rankings are available from the ECF website.
Telford 4NCL tournament surprise results
17 Jul. Jonah Willow (W Nottingham), fresh from his success in the UK Chess Challenge Midlands Gigafinal shared first place with Peter Sowray (Barbican), Michael De Verdier (Sweden) and Koby Kalavannan (Surbiton, London) each on 4 points from five games. They were ahead of GM Wells and IM Merry. Sam Herring (Oundle Sch, Northants) and Nicholas Clanchy (Cambridge Univ) shared first in the Major tournament while Mohammad Mozaffari (Iran and W Nottingham) won the Minor tournament outright.
Entry form available for MCCU Open Championships
12 Jul, Alex Holwczak reports. The 2018 MCCU Open Championships will be held at Telford Fri 10 to Sun 12 August. Two FIDÉ-rated sections - Open and u1900/160ECF - and a u130 ECF tournament. Five rounds with an option to take a half-point bye in rounds 1 to 4. Further information with links for on-line entry, terms and conditions.
Nottinghamshire and Leicestershire win national team titles.
8 Jul, Neil Graham reports. In the national county team championship finals held at Warwick, Nottinghamshire - fourth time lucky - beat Yorkshire in the under-140 final and Leicestershire beat Lancashire in the under-100 final. See scores and Neil's reports on the 2017-8 county match national pages. In the open section, Lancashire and Yorkshire tied their match, with Lancashire retaining their Open national title on tie-break.
Greater Manchester is IN!
7 Jul, Mick Norris reports. At the Manchester Federation AGM John Reyes was elected captain for thier bid for the Midlands team championship and David Pardoe re-elected as captain of the u160 team.
Midlands players to officiate at Georgian Olympiad
4 Jul, ECF Newsletter reports. Alex Holowczak (Warks) was appointed to the Technical Administration Panel for the event and Matthew Carr (Staffs) as a Match Arbiter.
Peter Sherlock and John Grasham honoured by MCCU
30 Jun, Ray Dolan reports. At the annual meeting held at Derby, Peter and John were made Life Vice-Presidents in recognition of their services over many years. Peter has controlled the county team competitions and been grading officer since 2006. John stepped down as honorary secretary for the union this year after holding the post for years.
Jonah Willow wins North Wales Open
24 Jun, Neil Graham reports. Junior West Nottingham player Jonah Willow won all five games to take first place in the Open at Llandudno
Joseph McPhillips shares first place in Budapest
12 Jun. In a "First Saturday" tournament the young Bolton player scored 7 points from nine games to share first place with GM Ivan Farago and above two other IMs.
Click "News" on the menu bar above for other recent items.
Next in the Midlands
Fri 10 to Sun 12 Aug. Midland Open Championships at Ramada Hotel Telford Ironbridge, Forge Gate, Telford TF3 4NA. FIDE-rated Open, FIDE-rated u1900 (U160 ECF), u135 tournaments. Five rounds and half point byes available
Next Midlands & national junior events
Sun 23 Sep. ECF Secondary Schools Chess Tournament at Eton College, Windsor. Six-member teams for players in years7-13.
Next National Event
Jul 27 to 5 Aug. British Chess Championships at Hull City Hall, Victoria Square, Carr Lane, Hull HU1 3RQ. Weekend, junior and graded tournaments.
The "chess counties" forming the MCCU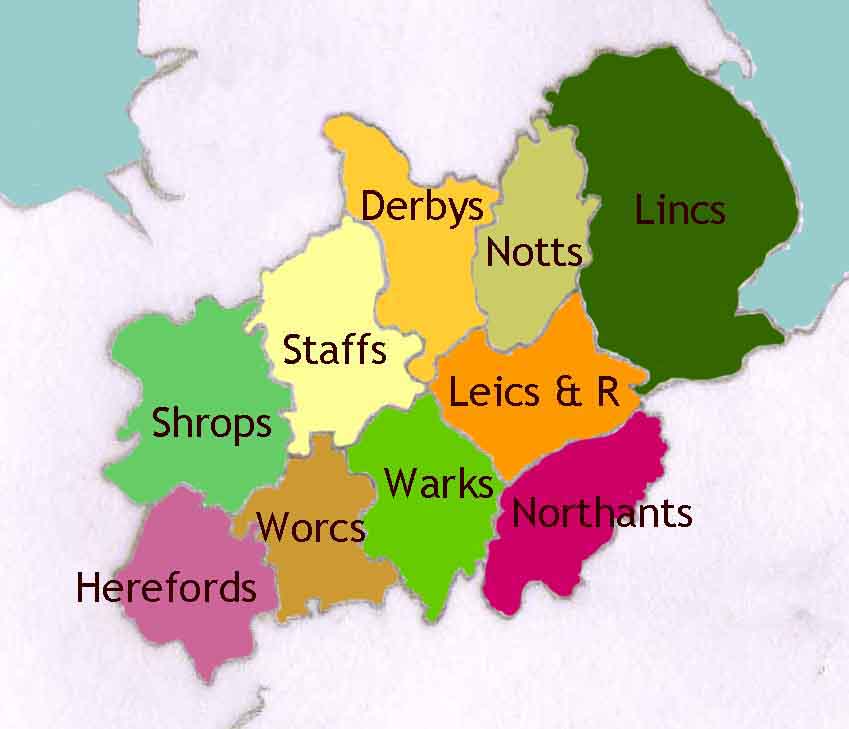 Eleven "Chess Counties" form the Midland Counties Chess Union and cover the areas shown in the map on the right. A small Board of volunteer directors currently led by Chief Executive Ray Dolan (Staffs) is elected annually by delegates from member chess counties. The Board organises regional competitions based on policies agreed annually by delegates from member chess counties.
By playing in the competitions hosted on this website you agree that your name, chess grade and your membership status with the English Chess Federation (ECF) may be published on this website for the purposes of recording the results of the competitions. You also agree that such information will be passed to the ECF, the governing body, for grading purposes, and published on their website.