Latest MCCU News
MCCU congresses
Rapidplay and Blitz at Holiday Inn Birmingham Walsall on Sat & Sun 17 & 18 Feb
Junior Open Congress at Kenilworth School on Tue-Thu 3-5 April
For details, see MCCU congress pages
Midlands team championship results
20 Jan. In the Midlands team championship, there were two very close results. Nottinghamshire lost at home to Lincolnshire and Worcestershire won at home against Leicestershire to get their first match points of the season. In the u120 matches Lincs beat Warks and Derbys beat Notts
First county match results for 2018
13 Jan. In the u120 competition, Leics had a convincing win against Staffs.
6 Jan. Also in the u120 competition Lincs narrowly beat Worcs and in the u100 Leics beat Warks.
Shropshire Chess Congress
7 Jan. IM Alan Merry made a clean sweep with 5 points in the Open with IM Amit Ghasi (Lincs) and GM Stephen Gordon (3Cs, GMC) second on 4 points. The Major was shared by Chris Lewis (Newport, Shrops) and Glyn Pugh (Telford, Shrops) on 4 points. Four players: Dominic Barefoot (Oswestry), David Gilbert (DHSS), Colin Mace (Wellington, Shrops), and Richard Szwajkun (Telford, Shrops) shared first in the Intermediate and promising junior Chinmay Monga (K EdWard's Sch, Birmingham) won the Minor with 4½ points. Nearly 150 players participated. See further results.
Midlands masters at Hastings
5 Jan. GMs Mark Hebden (Leics) and Keith Arkell (Worcs) and IM Steve Mannion (Staffs) scored 6 points from 9 games and shared 6th prize in the Hastings Masters.
Standardised penalty for illegal moves
1 Jan, SCCU reports. New FIDE rule 7.5.5 comes into force: "for the first completed illegal move by a player, the arbiter shall give two minutes extra time to his opponent; for the second completed illegal move by the same player the arbiter shall declare the game lost by this player. However, the game is drawn if the position is such that the opponent cannot checkmate the player's king by any possible series of legal moves." This rule applies whether Blitz, rapid or standard play.
County match results
17 Dec. Warks enjoyed a double win over Worcs in Minor and u120 matches at Olton.
16 Dec. Leics beat Notts in the championship and u120 Derbys beat Staffs
9 Dec. In the u100, Leics had a comfortable win against Notts and Warks soundly beat Staffs.
2 Dec. In the u140, Derbys beat Lincs. The u140 competition is fierce with no match being decided by more than a single point.
18 Nov. In the Midlands championship, Lincs beat Worcs and Warks beat Leics.
11 Nov. In the u140, Notts beat Derbys in a close match to join Worcs in the lead. In the u120s a dramatic finish gave Warks a close away win against Notts.
Bolton Rapidplay
5 Nov, Rod Middleton reports. The open was won by Paul Macklin (Chorlton) with 5/6 points; Robert Hanson (Preston, 5 points) won the Major and Doug Barnett (Alsager) and Alex Sosnowski (Eccles) shared first place in the Knights tournament.
First county team results in u100, u140 and u160
4 Nov. Six teams were in action with wins for Notts in the u160, Worcs in the u140, and Leics in the u100
Wins for Worcs and Warks in the u120
28 Oct. Sorry about the delayed details for the Warks-Derbys match caused by scrambled comms: full details now uploaded.
Click "News" on the menu bar above for other recent items.
Next in the Midlands
Sun 28 Jan. Nottingham Rapidplay at Nottingham High School, Open, Major (u160), Intermediate (u135), and Minor (u100) tournaments.
Sun 28 Jan. Stockport Rapidplay at The Guildhall, Stockport. Open, Major (u170), Intermediate (u140), Minor (u110).
Next Midlands & national junior events
Fri 19 Jan 2018. East Midlands Chess Academy Junior Grand Prix Round 1 at Bramcote Methodist Church Hall, Nottingham. Coaching and graded rapidplay game.
Next National Event
Sun 4 Feb. 2020 Chess Grand Final at Underground Dance Studio Hall, Birmingham University B15 2SA..
The "chess counties" forming the MCCU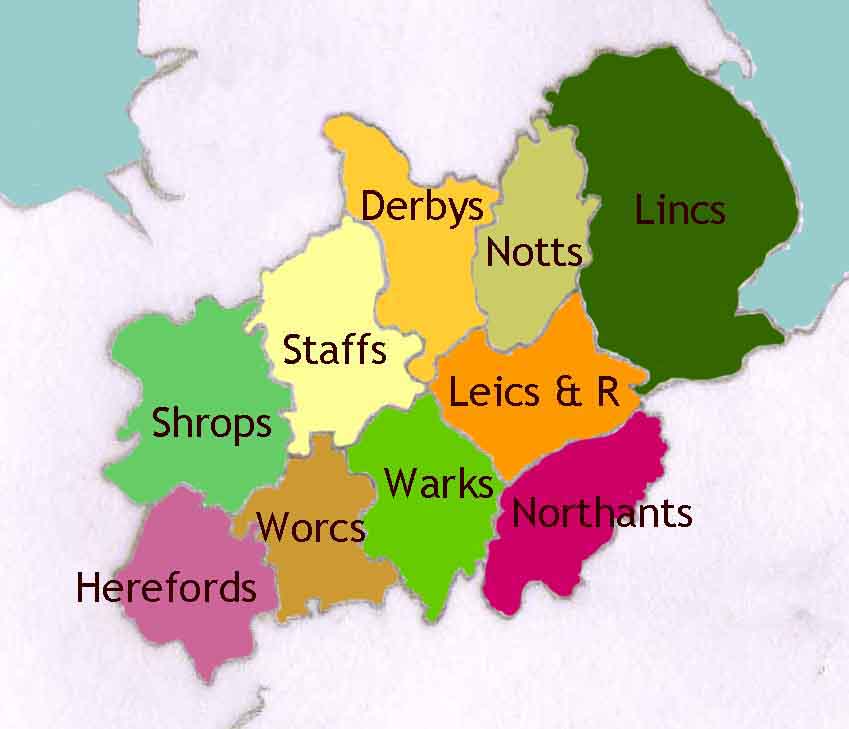 Eleven "Chess Counties" form the Midland Counties Chess Union and cover the areas shown in the map on the right. A small Board of volunteer directors currently led by Chief Executive Ray Dolan (Staffs) is elected annually by delegates from member chess counties. The Board organises regional competitions based on policies agreed annually by delegates from member chess counties.