Latest MCCU News
Annual meeting on 25 June
6 May, Ray Dolan reports. The AGM will be held on Sat 25 June at Rolls Royce, Derby. Please contact Ray Dolan if you want issues raised.
Nottingham Congress results
24 Apr. FM Jonah Willow (Notts) was first in the open on 4½ points ahead of Brandon Clarke and GM Mark Hebden. Sammy Benzaira (Notts) shared first place in the Major with James Luong Alejandro Lopez-Martinez, and David Wells (all Yorks). There was also a four-way tie in the Intermediate: John Robinson (Leics), Bill Ward (Yorks), Paul Wheatley (Yorks) and Andre Cockburn (Derbys). The Minor was won outright by James McBain, 5 points, and the Improvers by Joseph Hogan, 4½ points. A hundred players competed.
David Anderton OBE 1941-2022
1 Apr. Wolverhampton and District Chess League have reported the death of David Anderton of Staffs, a Vice-president of the MCCU. He captained the English Olympiad team for 20 years and for many years he was an ECF unpaid director being President/CEO 1979-82 and acted as a legal adviser for the national federation until 2015. David was an International Correspondence Master, and captained Staffordshire first team for several years. He was an ECF honorary Life Vice President, and was awarded the OBE for services to chess in 1977. Our condolences go to wife, Doreen and his family. For more detail read see the ECF website.
MCCU nominations of teams for national stages
25 Mar. Greater Manchester are in the open competion and Lincolnshire decided not to take up their option. The other nominations are: Minor Counties Warwickshire and Worcestershire; u2050 Nottinghamshire; u1850 Greater Manchester (Leicestershire declined the offer to participate); u1650 Warwickshire and Worcestershire; u1450 Nottinghamshire and Leicestershire. Where more than one county has been nominated the first names is MCCU 1.
Warkwickshire are MCCU team champions beating Worcesterhire
19 Mar. At a new venue for county play and outside either couties' boundaries, Warwickshire beat Worcestershire 9½ - 6½. Shropshire withdrew from the competition and it is likely that both teams will be invited to play in the ECF national finals.
Leicestershire are u1850 Midland county champions
5 Mar. Leicestershire just beat Greater Manchester at the Newcastle Bridge Club neutral venue.
Leicestershire u1450 beat Nottinghamshire juniors
26 Feb. Leicestershire just held off the junior challenge.
Nottingham Rapidplay
20 Feb. IM Sarakausas Gediminas (Lithuania) and Shabir Okhai (Leics) were first in the Open on 5/6. The major was won by Stuart Humphreys (Notts) with 5½/6. The intermediate was shared by Nick London (Notts), Daniel Clayton (Yorks), and Lewis Jeffrie all on 5/6. Benjamin Humphreys (Notts Juniors) won the Minor with 5½/6 and Terry Knight (Derbys) made a complete sweep in the Improvers. One hundred and fifty players took part.
Kenilworth Junior Open
19 Feb. Avyukt Dasgupta (Herts) won all his games to take the Open prize. Highest placed Midlander was Alex Royle (Lincs) on 4½/5.
Nottingham seniors beat juniors to become u1450 Midland champions
22 Jan. In the first county match result reported in 2022, oldies beat the juniors 9-3.
Click "News" on the menu bar above for other recent items.
Next in the Midlands
Sun 3 July. Cleethorpes Rapid 10:00-16:30 at Cleethorpes Leisure Centre, Kingsway, Cleethorpes, DN35 0BY. Three sections: Open, Major (below 1900), Minor (below 1600), six rounds, time control 20 min+10 sec.
Next Midlands Junior Chess
Sun 15 May. Warwickshire Megafinal, UK Chess Challenge at Archbishop Ilsley Catholic School, Victoria Road, Acocks Green, Birmingham, B27 7XY. 09:30-17:00 hr, numerous age groups, 6 rounds, time control 15 min + 10s
Sat 21 May. East Midlands Regional Youth Final 10:00-18:00 hr, at Nottingham HS, Forest Road East, Nottingham NG1 4HH. Numerous age-group topurnaments, 5 rounds, time control 25 min + 10s.
Online events
Link for all ECF online events


The "chess counties" forming the MCCU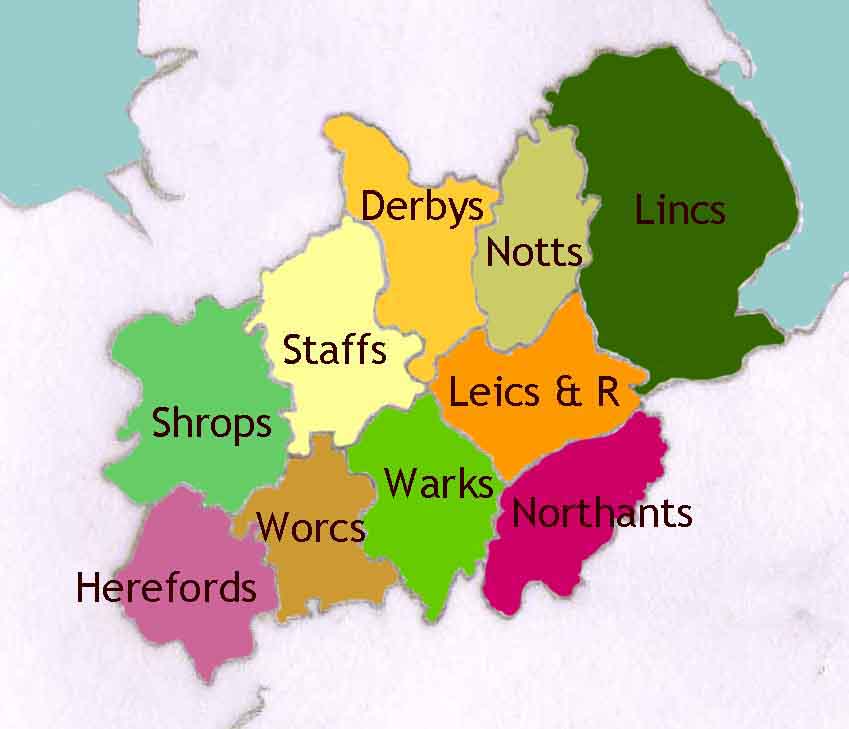 Eleven "Chess Counties" form the Midland Counties Chess Union and cover the areas shown in the map on the right. A small Board of volunteer directors currently led by Chief Executive Ray Dolan (Staffs) is elected annually by delegates from member chess counties. The Board organises regional competitions based on policies agreed annually by delegates from member chess counties.
By playing in the competitions hosted on this website you agree that your name, chess grade and your membership status with the English Chess Federation (ECF) may be published on this website for the purposes of recording the results of the competitions. You also agree that such information will be passed to the ECF, the governing body, for grading purposes, and published on their website.