Latest MCCU News
2021-2 league seasons start
20 Sep, Mick Norris reports. Manchester League plans to start a shortened otb season with a new format in October and Stockport plans a start in the New Year.
20 Sep, Paul Sharratt reports. Wolverhampton league has an EGM scheduled for mid-October.
18 Sep. Leamington League held their first fixtures with four teams in action on 7 September. Worcestershire league re-started with a special match in memory of Nick Harris who died in June, but for this season the county league and Worcester and District League have joined forces to ensure viability. Birmingham League has matches scheduled for October. Lincolnshire, Derbyshire and Staffordshire are planning to resume. Dudley and and Staffordshire leagues are holding AGMs soon. Manchester and Coventry League continue online, but Wolverhampton league's latest news was dated March, and there is no recent news on the North Staffs website and Cannock League website appears to be offline. No otb league chess was reported on the Leicestershire, Northamptonshire, Shropshire, or Nottinghamshire, websites.
19 Sep. Making spaces safe. The Nuffield Department of Primary Care has produced useful videos about preventing the spread of Covid-19.
County entries for MCCU team championships
17 Sep, Peter Sherlock reports. Lincolnshire have entered the Open and have been permitted to proceed to the national stages without playing in the Open/Minor competition.
10 Sep, Peter Sherlock reports. Open - Greater Manchester have elected to entered a team in the Open but have been permitted to do so without competeing in the MCCU Open and Minor competition. Open/Minor - Shropshire, Warwickshire and Worcestershire. Counties will decide which section (Open or Minor) in the National Stages they wish to enter on December 31. u2050 section - only Nottinghamshire have entered and will go through to the National Stages as MCCU1. Entries for this section can be received (from any county) between now and December 31. Participating counties will compete for MCCU2 & MCCU3. U1850 section - Derbyshire, Greater Manchester and Leicestershire. U1650 section Warwickshire and Worcestershire. U1450 section Leicestershire, Nottinghamshire, Notts Juniors and Warwickshire. Warwickshire have, as yet, no captain so they will withdraw if they don't find one before their first fixture on December 4. Lincolnshire and Staffordshire are not participating this year.
Click "News" on the menu bar above for other recent items.
Next in the Midlands
Sat, Sun 15 & 16 Sep, Junior 4NCL at Woodland Grange, Old Milverton Lane, Leamington Spa CV32 6RN.
Online events
Link for all ECF online events
Tue evenings 31 Aug to 23 Nov. 4NCL Online Autumn Congress. Open, u-2000, u1700, u1400 sections.
Sun 19 Sep, 2-4:30pm. ECF Online Rapid Grand Prix 2021 on lichess.org


The "chess counties" forming the MCCU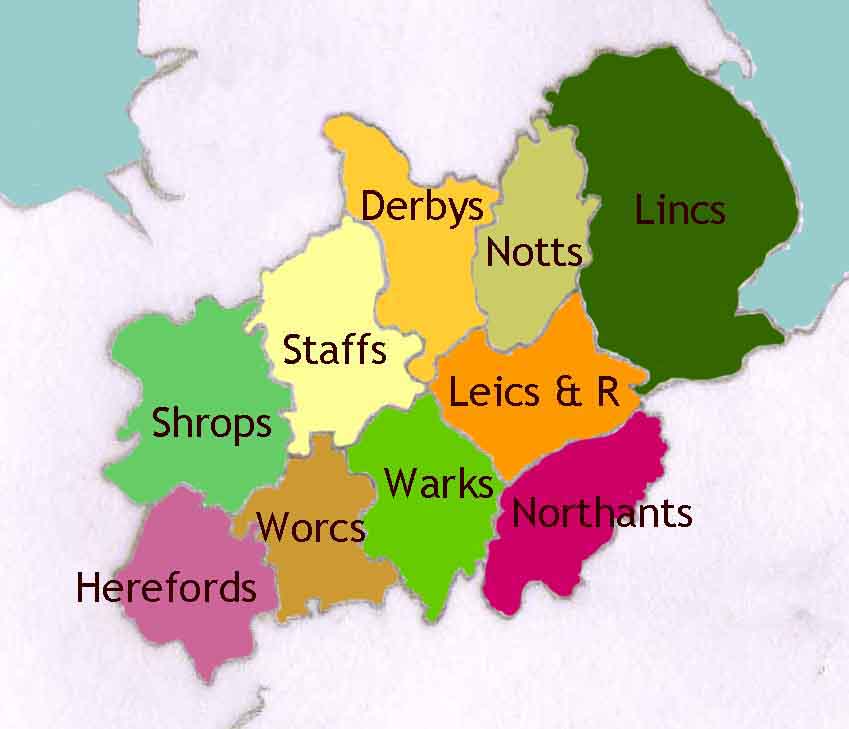 Eleven "Chess Counties" form the Midland Counties Chess Union and cover the areas shown in the map on the right. A small Board of volunteer directors currently led by Chief Executive Ray Dolan (Staffs) is elected annually by delegates from member chess counties. The Board organises regional competitions based on policies agreed annually by delegates from member chess counties.
By playing in the competitions hosted on this website you agree that your name, chess grade and your membership status with the English Chess Federation (ECF) may be published on this website for the purposes of recording the results of the competitions. You also agree that such information will be passed to the ECF, the governing body, for grading purposes, and published on their website.
The MCCU
The current webmaster is Ray Collett (Worcs). The website's policy is to report results of the MCCU competitions, principally the MCCU county team tournaments and congresses. Brief results of other chess congresses held in the MCCU area and and links to organisers' websites are on the "News" pages. A calendar of upcoming chess congresses is on the "Congresses" pages. Some important national and international chess events will also be reported if there is a "Midlands" interest. In the menu bar above: "About" gives more information about the MCCU and has links to rules and administrative papers; "Guide" explains the site's organisation and provides links to most of the site's key pages.
Please send news of Midlands chess events, corrections, notifications of broken links, and suggestions to improve the website to Ray Collett.