Latest MCCU News
Worcestershire and Greater Manchester win national honours
22 Aug. In the ECF Counties Championships Online, Lincolnshire lost to Northumberland in the Open and were also defeated in their u1825 match against Essex ending their dreams of a history-making double. The other Midlands finalists won their matches. Worcestershire beat Somerset, but by a narrower margin than when they met in the group stage. Greater Manchester beat Norfolk in the u1825 Challengers final. See full results linked from the national county match page.
8 Aug. Lincolnshire beat Norfolk in the Open and Worcestershire beat Berkshire in the Minor Open to go to the national finals. In the Major Open, the Mancunians lost to Yorkshire and Shropshire lost to Middlesex B in the Open Challengers. Lincolshire u1825 team kept pace with its senior team and also booked a place in the final by beating Middlesex, while Greater Manchester u1825 beat Surrey.
Lincolnshire and three other Midlands teams go into final stages
3 Aug. Both Lincolnshire Open and u1825 teams have qualified for the ECF Counties Online championships. The open team play Norfolk and the u1825 team play Middlesex. Greater Manchester qualified for the Major Open and play Yorkshire; Worcestershire qualified for the Minor Counties competition and play Berkshire. Greater Manchester u1825 team qualified for the Challegers' competition and play Surrey. All matches are on 8 August.
25 Jul. In the penultimate round of the group stages, Lincolnshire secured progress to the KO stages for both their Open and u1825 teams. Lincolnshire head Open group 1A beating Yorkshire, but Leicestershire lost to Middlesex A. In group Open1B, Greater Manchester beat Essex but are placed only mid-table and meet top-of-table Northumberland in the final round. In Open group 2A, Derbyshire lost to Oxfordshire and Warwickshire drew with Gloucestershire. Both counties are mid-table and unlikely to progress. In Open group 2B, Shropshire were held to a draw by Somerset and Worcestershire beat Hampshire. Shropshire meet bottom-of-table Hampshire and must win to progress to the final stage. See links for full results.
England squad named for Olympiad
25 Jul. Adams, McShane, Houska, Hunt, Wadsworth, and Kalaiyalahan are in the team and two Midlands players are in the reserve squad: Katarzyna Toma (Worcs) and Jonah Willow (Notts).
FIDÉ Online Olympiad 2020
23 Jul. One hundred and sixty three teams have registered for the Online Olympiad. This event replaces the cancelled 2020 Olympiad which was planned for August. Teams have six players of which at least three must be female and two juniors. The weakest thirty teams play in the base division starting on 25 July to fight for twelve places in Division 4. Play in the divisions starts 29-31 July. The format is quickplay 15 minutes plus 5 second increments from move 1.
Alex Holowczak FIDÉ Chief Arbiter for online Olympiad
19 Jul. Alex Holowczak (Worcs) leads a team of fourteen Arbiters for the online Olympiad starting in a week's time.
Midland counties in online championships
19 Jul. In the Open 1A group, Lincolnshire ensured progression by beating Middlesex A, but Leicestershire lost to Cheshire and North Wales. Greater Manchester kept their hopes alive in group 1B by beating Bedfordshire & Hertfordshire, but will have to win their 4th round fixture against Northumberland on 1 August. Derbyshire and Warwickshire came off badly aginst Berkshire and Middlesex B respectively and Warwickshire have only slim chances to progress in group 2A. Worcestershire won its first group match aginst Somerset and Shropshire levelled with Cumbria in Group 2B. To progress, Worcestershire will need an emphatic win in its final fixture against bottom-of-the-table Hampshire and Shropshire would need to need to lose or draw against Somerset on 25 July. In the u1825 competition, there were two matches only, both involving MCCU teams. Lincolnshire beat GMC to gain progression and retain their 100% online record so far. Leicestershire lost to Norfolk.
4 Jul. Lincolnshire beat Leicestershire, and other Midlands teams lost matches: Greater Manchester to Norfolk; Derbyshire to Gloucestershire; and Worcestershire narrowly to Cumbria. In the u1825 competition, Lincolnshire beat Norfolk and Greater Manchester lost to Northumberland. After two rounds in the Open Divisions, Lincolnshire share the lead with Middlesex A in their group and Shropshire share the lead in thiers. Lincolnshire also have sole lead in u1825 group A. For full results see 2020 county national results.
Click "News" on the menu bar above for other recent items.
Next in the Midlands
All over-the-board events have been cancelled, postponed or suspended.
Online events
Thu 27 Aug. West Midlands Area Online League Summer season Round 3.
Sat 5 Sep. North vs South 2020 challenge. MCCU county players support the North and visit the link to register to play. Starts at 6:30pm
Link for all ECF online events
The "chess counties" forming the MCCU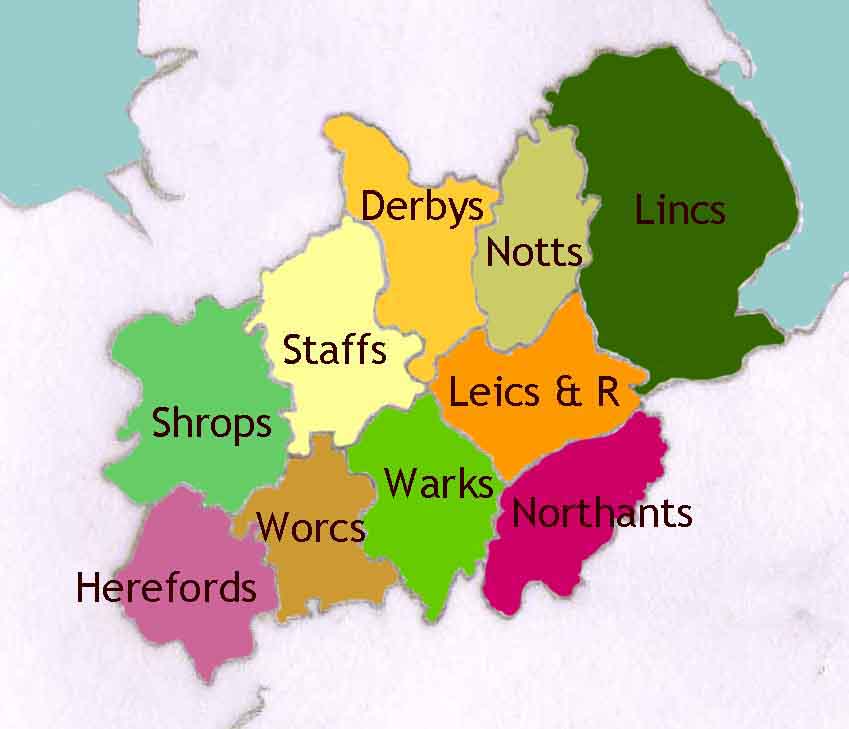 Eleven "Chess Counties" form the Midland Counties Chess Union and cover the areas shown in the map on the right. A small Board of volunteer directors currently led by Chief Executive Ray Dolan (Staffs) is elected annually by delegates from member chess counties. The Board organises regional competitions based on policies agreed annually by delegates from member chess counties.
By playing in the competitions hosted on this website you agree that your name, chess grade and your membership status with the English Chess Federation (ECF) may be published on this website for the purposes of recording the results of the competitions. You also agree that such information will be passed to the ECF, the governing body, for grading purposes, and published on their website.