Latest MCCU News
First county match results of the season
6 Oct. Lincs and Notts fought to a draw in the championship, while Warks beat local rivals Worcs and Staffs drew with Notts in the u120.
Keith Arkell wins 4NCL Nottingham Open
30 Sep, Neil Graham reports. Keith was first on 4½ points in the Open. The first prize in the Major was shared by Joshua Pink (Stockport, GMC) and Ismael Lafuente Molano (Spain). The Minor first prize was also shared: Roy Hadfield (Leamington, Warks) and Sajjad Dehghan-Afifi (Manchester). Entries for this event were closed early because the venue capacity had been reached and over 150 players competed.
England placed 4th in the Batumi Olympiads
6 Oct. In spite of a convincing win against Kazakstan, England just missed out on a podium in Georgia and were unable to overhaul Poland. In fourth position, the team performance is a marked improvement on the last few years and David Howell on board 3 had a particularly good tournament. China won both the Open and the Women's team event and much-fancied USA were unable to make good on thier number 1 seeding in the Open.
Midlanders' successes at UK Chess Challenge Terafinal
16 Sep. FM Jonah Willow shared first place in the under-18 section with 5 points. Highest scoring Midlander in the under-14 trournament was Finaly Bowcott-Terry (Worcs) with 4 from 6 games and Edison Xu (Warks) shared first place in the under-12. Warwickshire players also did well in the under-8 tournament with Jude Shearsby sharing first place and Ellis Dicen was the highest girl player.
All change in Worcestershire
23 Aug. Worcestershire CA has a new management team and a new website. New secretary is Paul Sharratt and new team captains are: Stephen Woodhouse (Minor Couties team), his son Monty (u120 team) and Tony Shaw takes over Worcestershire u140 team. Ray Collett retired as general secretary at the county's AGM in May and he received the Jim Friar award for services to Worcestershire Chess at their executive meeting in August. Worcestershire's new website is at http://www.worcestershirechess.org.uk/
McPhillips wins Manchester Summer Open
20 Aug, Ian Lamb reports. Joseph McPhillips won the Open outright with 4½ points above IM Nikolay. The Major was shared by Samuel Toniolo (Altincham & Sale) and Athar Ansari (Newport, Shrops) on 4½ points. The Knights tournament resulted in a three-way tie between Patrick Sartain (Harrow), Roger Walker (Belper) and Zak Tomlinson (Barnaby Dun). This event was one of the largest Manchester congresses and had over 150 players. Full results are on the chess-results.com server.
Three-way tie for first in Midlands Open at Telford

12 Aug. Jonah Willow followed up his recent successes coming first with Steven Jones and Modi Shyam Jagdish on 4 points. In the early rounds top seeds Willow and Hebden had setbacks, but Jonah recovered winning his last two games. The Major was won by Athar Ansari (Newport, Shrops) on 5 points and first place in the Minor was shared by John Harris (Glos) and Julian Hawthorne (Kidsgrove) on 4 points

Jonah Willow latest Midland FM

6 Aug, Neil Graham reports. Jonah Willow's rating has soared to 2303 in the FIDÉ August rating list and he was awarded the FM title.

Jonah Willow Picture by Brendan O'Gorman
Midlands players at the British
5 Aug. Highest ranking Midlands players at the Britsh this year were Ameet Ghasi (Birmingham/Grantham Sharks) and Keith Arkell (Halesowen, Worcs) on 6 points while Joseph McPhillips (Bolton, Gtr Manchester) made 5½ and Mark Hebden (Leicestershire) 5 points. For his performance Joseph shared the under-21 prize and Keith won the over-50 prize. Rohan Pal (Warks) won the under-9 championship while Elis Dicen (Coventry) won the under-8 Girl's championship. The 2018 Britsh champion is Michael Adams, beating Luke McShane in the play-off games. Jovanka Houska won the Women's championship.
New grading list published
26 Jul. The latest rankings are available from the ECF website.
Telford 4NCL tournament surprise results
17 Jul. Jonah Willow (W Nottingham), fresh from his success in the UK Chess Challenge Midlands Gigafinal shared first place with Peter Sowray (Barbican), Michael De Verdier (Sweden) and Koby Kalavannan (Surbiton, London) each on 4 points from five games. They were ahead of GM Wells and IM Merry. Sam Herring (Oundle Sch, Northants) and Nicholas Clanchy (Cambridge Univ) shared first in the Major tournament while Mohammad Mozaffari (Iran and W Nottingham) won the Minor tournament outright.
Click "News" on the menu bar above for other recent items.
Next in the Midlands
Sun 21 Oct. Birmingham Rapidplay at Quinborne Community Centre, Ridgacre Road, Birmingham B32 2TW. Start 10:30 am; FIDÉ Open, u170, u140, u110 sections; 7 rounds
Next Midlands & national junior events
Sun 13 Jan. Leicester Junior Open Congress at Leicester Grammar School, London Road, Great Glen. From 9:30am to 5:30pm, 6-round graded rapidplay, Open, Major u80, and minor u30.
Next National Event
9-28 Nov. World Chess Championship Carlsen-Caruana at The College, Holborn, London.
The "chess counties" forming the MCCU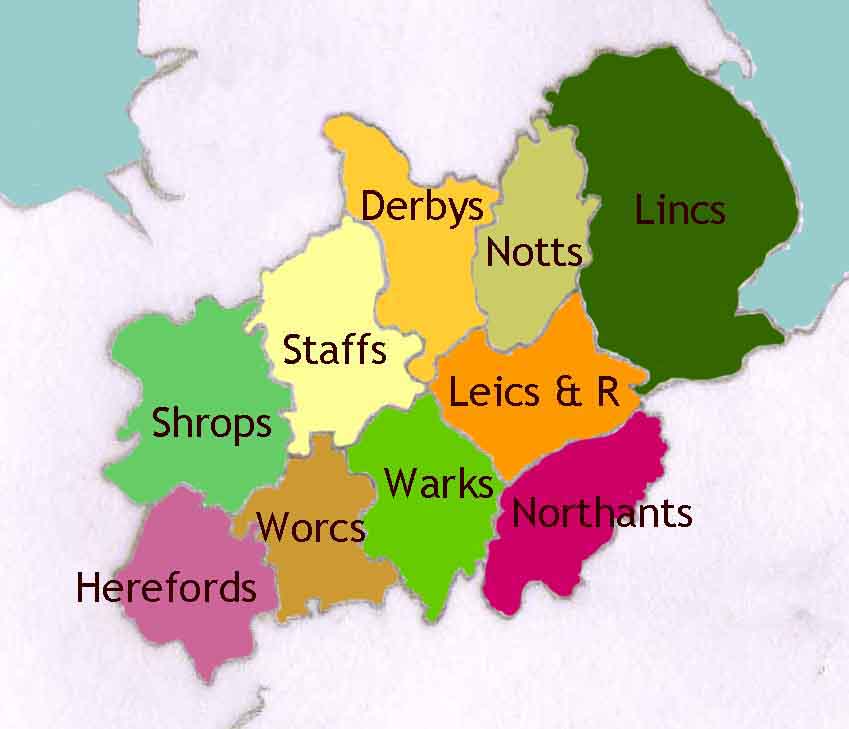 Eleven "Chess Counties" form the Midland Counties Chess Union and cover the areas shown in the map on the right. A small Board of volunteer directors currently led by Chief Executive Ray Dolan (Staffs) is elected annually by delegates from member chess counties. The Board organises regional competitions based on policies agreed annually by delegates from member chess counties.
By playing in the competitions hosted on this website you agree that your name, chess grade and your membership status with the English Chess Federation (ECF) may be published on this website for the purposes of recording the results of the competitions. You also agree that such information will be passed to the ECF, the governing body, for grading purposes, and published on their website.