Latest MCCU News
First county match results in 2017
14 Jan. Leicestershire thrashed Staffs in the u100 match.
7 Jan. In the under-140 competition, Derbyshire drew with Nottinghamshire.
Geoff Harris 1930-2016.
7 Jan, Eric Horwill and Brian Dudley report. Geoff Harris, a lifetime member of Stourbridge, was remembered at a service at St Peter's Church, Pedmore. At his peak, Geoff was a 200+ player, twice champion of Worcestershire in 1961-2 and 1962-3. He represented England and of course Worcestershire in team play. His best performance in the British Championship was in 1954 when he was 6th. Playing on board 1 he helped Stourbridge to win two Birmingham & District and several Worcestershire team titles. He is remembered as a "genuine gentleman of the chess board" and will be much missed by all. See full tribute on the ECF website.
Hastings International Chess Congress
6 Jan. GM Deep Sengupta (IND) won the Masters with 7/9. Midlands players in the Masters did not fulfil their potential: GM Mark Hebden (Leics) 5½; GM Keith Arkell (Worcs) 4½; IM Robert Bellin (Staffs) 5 and Martin Burrows (Leics) 4. In other tournaments, Keith Arkell won the Blitz with 7½/9. Mark Whitehead (Rochdale) won the New Year afternoon A tournament.
Counties' Open-Minor decisions
29 Dec, the controller reports. The top three counties in the MCCU Minor competition will be offered nominations for the Minor Counties national stages and Warks and Notts will play for the Midlands u180 title and be offered nomination to the national stage of that competition.
London Chess Classic
16 Dec. Wesley So (USA) won the super GM tournament with 6/9. In the FIDE Open, GM Mark Hebden (Leics) scored 6½/9 and GM Keith Arkell (Worcs) 5½.
Steve Foster 1953-2016
11 Dec, Nottingham Gambit website reports. Steve Foster (Nottingham Central) died peacefully at home after a short illness. Steve played for Nottinghamshire's first team and captained teams for Nottingham Central club. Before retirement, he played for Worcestershire and captained St John's Worcester teams. Our condolences to his family and team colleagues. Nottingham Gambit and Ashfield websites give more information.
County results
10 Dec. In the u160, Notts beat Gtr Manchester. In the u120 matches, Worcs beat Lincs and Notts beat Warks.
3 Dec. After being 7-1 up at the halfway stage, Worcs narrowly beat Lincs in the open and minor section. Meanwhile Leics thrashed warks in the minor/open. Notts u140 and u100 teams at home at Bramcote beat Lincs u140 and a sadly depleted Staffs u100 team.
Click "News" on the menu bar above for other recent items.
For details, visit links from here or Congress and Junior Events pages
Upcoming in the Midlands
Sat & Sun 21 & 22 Jan. ECF Arbiters' Course by Alex Holowczak and Alex McFarlane at Solihull.
Next National Event
Sat & Sun 1 & 2 Apr. National Club Championships at Solihull. Open and grade limited team competitions.
Next Midlands & national junior events
Sat 21 Jan 2017. English Primary Schools Chess Association at Liverpool For under-11s, separate tournaments for under-8, under-9, under-10, and under-11 players.
The "chess counties" forming the MCCU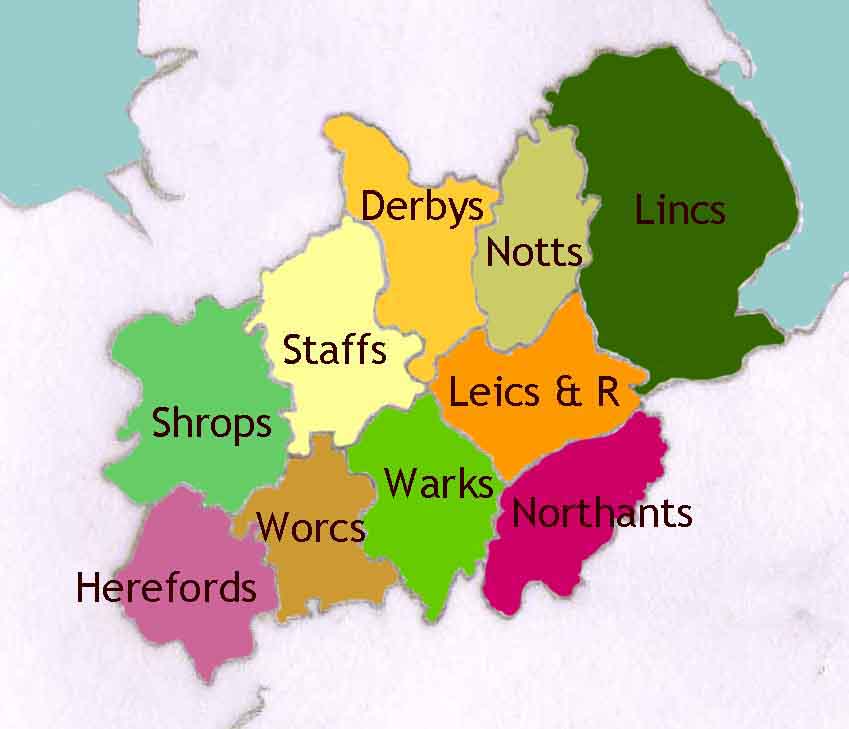 Eleven "Chess Counties" form the Midland Counties Chess Union and cover the areas shown in the map on the right. A small Board of volunteer directors currently led by Chief Executive Ray Dolan (Staffs) is elected annually by delegates from member chess counties. The Board organises regional competitions based on policies agreed annually by delegates from member chess counties.
The MCCU
The current webmaster is Ray Collett (Worcs). The website's policy is to report results of the MCCU competitions, principally the MCCU county team tournaments and the Midlands Grand Prix. Brief results of chess congresses held in the MCCU area and and links to organisers' websites are on the "News" pages. A calendar of upcoming chess congresses is on the "Congresses" pages. Some important national and international chess events will also be reported if there is a "Midlands" interest. In the menu bar above: "About" gives more information about the MCCU and has links to rules and administrative papers; "Guide" explains the site's organisation and provides links to most of the site's key pages.
Please send news of Midlands chess events, corrections, notifications of broken links, and suggestions to improve the website to Ray Collett.