Latest MCCU News
Lincs and Staffs teams get national county titles
13 Jul. Lincs were paired against Devon in the national Minor Counties final, but Devon defaulted. This was a sad way to decide the title and deprives Lincolnshire players of a well-deserved triumph. Staffs returned in force to limited graded county competition. In spite of losing to Notts in the Midlands stage matches, they beat Notts in the under-100 national final. Use the County Matches menu item and then national stages to see match scores and links to MCCU team full results.
Shropshire re-enter county competitions
12 Jul. Matthew Clark reports. Shropshire intend to field an Open and an under-120 team in the 2019-20 MCCU team competitions.
Worcestershire hope to field under-100 team
30 May. At its annual meeting, Worcs received an offer to captain a u100 team in the MCCU competition to give lower-graded players the opportunity to play. At the same meeting, Worcestershire League adopted incremental time control for team matches and honorary treasurer Brian Turner received the Jim Friar award for services to Worcestershire chess.
Annual MCCU meeting approves new time control
15 Jun. Leicestershire's proposal that the MCCU should have incremental time control for inter-county matches was approved subject to a slight grammatical correction. Tim Walker (Notts) was elected new Director for junior chess and two new Life Vice-Presidents were elected: Ray Collett (Worcs) and Andrew Leadbetter (Staffs). There is one vacancy, that for safeguarding, and in the meantime relevant issues should be reported to the CEO, Ray Dolan.
County quarter final and preliminary round results
Four Midlands teams through to finals and an all-Midlands u100 final
8 Jun. In the Open, Surrey beat Manchester; in the Minor counties Lincolnshire went through on board count to play Devon in the finals; in the u180 Warwickshire defaulted against Essex; in the u160 Nottinghamshire lost to Middlesex; in the u140 Worcestershire beat Essex and play Yorkshire in the final; the u120 result is awaited and both Midlands teams won in u100 with Nottinghamshire beating Warwickshire and Staffordshire beating Lancashire. The national finals will be held at Kettering Northants on 13 July.
Seven Midlands teams through to semi-finals.
18 May. Another three Midlands teams go to semi-finals. Worcestershire u140 beat Herts, but Notts u140 fall to Kent. Staffs had double victories over Norfolk in the u120 and the u100 matches. Notts beat Essex in the u100 competition.
11 May, Neil Graham and ECF report. Three teams go to semi finals.In the Open competition, GreaterManchester beat Sussex in their quarter final match, but Leics were knocked out by Middlesex. Notts lost to Devon in the Minor Counties quarter final, but in the Devon-Notts u160 match Notts squeezed through on the second tie-break after an 8-8 result. Manchester u160 lost to Suffolk. In the u120, Notts beat Kent, Derbys lost to Yorks.
Midland counties correspondence teams
1 May, Phil Morgan reports. Notts currently lead Division 2 of the Counties and District Correspondence Chess Club competition with 8½ points from 11 completed games, but Essex B have 7/7 points and seem likely to win the Sinclair Trophy. Warks B - on 5½/9 - and Worcs - on 3½/11 - also compete in the same division. Warks A compete in Division 1 (5/8 so far). Lincs (7½/9) lead Division 3 in the fight for the Butler-Thomas Trophy and Staffs (5½/10) also play in Division 3.
Derbyshire u120 through to quarter final
27 Apr. Derbys won their match against Herts and play Yorkshire next round.
Click "News" on the menu bar above for other recent items.
MCCU Open Congress
Fri 9 – Sun 11 Aug. At Ramada Hotel Telford Ironbridge Forge Gate Telford. FIDE Open, FIDE U2000 (ECF U175), ECF U135. Five rounds. Click here for details.
Next in the Midlands
Fri Jul 19 – Sun Jul 21. 4NCL FIDE Rated Congress @ Ramada Hotel Telford Ironbridge Forge Gate Telford. FIDE Open, FIDE U2000 (ECF U175), ECF U135. Five rounds
Next Midlands & national junior events
Sat 17 Aug. Delancey UK Schools Northern Challengers at Saddleworth School, Oldham OL3 6BU.
Next National Event
Fri 26 Jul - Sun 4 Aug. British Chess Championships at Riviera International Centre, Chestnut Avenue, Torquay TQ2 5LZ. Tournaments for élite British players, juniors, seniors, and grade limited sections, weekend and blitz events.
The "chess counties" forming the MCCU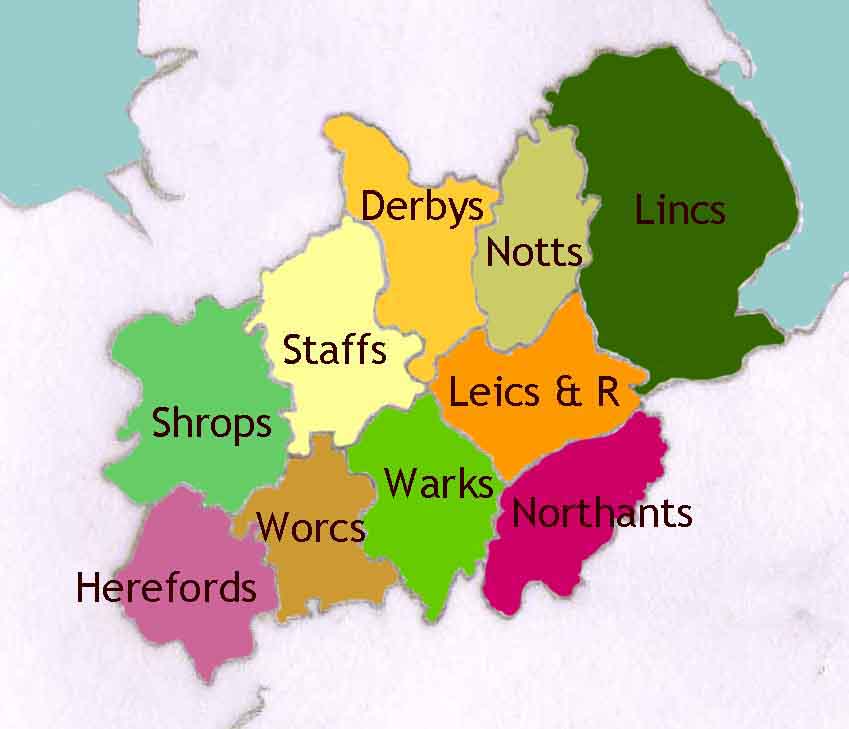 Eleven "Chess Counties" form the Midland Counties Chess Union and cover the areas shown in the map on the right. A small Board of volunteer directors currently led by Chief Executive Ray Dolan (Staffs) is elected annually by delegates from member chess counties. The Board organises regional competitions based on policies agreed annually by delegates from member chess counties.
By playing in the competitions hosted on this website you agree that your name, chess grade and your membership status with the English Chess Federation (ECF) may be published on this website for the purposes of recording the results of the competitions. You also agree that such information will be passed to the ECF, the governing body, for grading purposes, and published on their website.